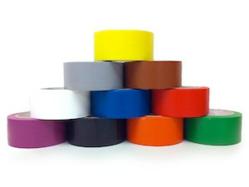 "We found the floor marking tape to be an incredible product for making creative designs for our artistic customers. We love it!"
Lake Oswego, OR (PRWEB) March 13, 2013
Floor marking tape is typically used for industrial plants and warehouses where aisles and pathways must be created for the safety of its employees and visitors. Forklifts and smaller vehicles are constantly scooting across the facility floor and the tape markings are a way to keep pedestrians within a safe walkway so accidents don't happen. But now floor marking tape is being taken to a new level of how to use the tape. Artistic designers are creating visual art on floors that will take a drab boring room to spectacular heights of artistic vision. The floor marking tape is available in ten vibrant colors and is now offered through Creative Safety Supply at affordable costs that can create a fabulous designed floor.
Designers are attracted to using floor marking tape for their designs over paint not only because it is cost effective but because of the easy and quick installation that can be applied to all surfaces, even on irregular surfaces. The tape is constructed with color throughout and not just the top layer which makes it ideal to make original designs more detail orientated. The tape is made out of an industrial grade material of 6 mil thick vinyl film that will resist scrapes, weathering and wear. Designs will last a long time under even the harshest foot traffic across the floor. The aggressive adhesive will resist all types of traffic from pedestrians, wheelchairs and other carts or dollies. Floor can be cleaned as normal without any harm to the tape.
A designer for innovative office spaces commented, "We found the floor marking tape to be an incredible product for making creative designs for our artistic customers. We love it!"
For more information about floor marking tape, please visit http://www.creativesafetysupply.com/floor-marking-tape/ or call toll-free (866)777-1360 to speak with a professional representative.