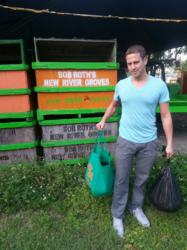 In the month of January, Eat Well Foods compost deliveries totaled more than 75 pounds.
Miami, FL (PRWEB) March 12, 2013
Eat Well Foods has adopted a Whole Earth Policy aimed at giving back some of its bounty to Mother Earth. Aside from delivering healthy, made-from-scratch meals to customers, the company is doing its part to eliminate the cycle of waste in the local area it serves.
"At Eat Well Foods, we strongly believe that in the food industry, integration with the planet is the greatest way to benefit all whom are affected," says Eat Well owner/chef Mark Lew. "Our goal is to respect the balance of life. We take the peels, stems, and otherwise unsuitable parts of the fresh fruits and vegetables we use and put them into biodegradable bags, which we then take to local farmers to be used as compost."
In the month of January, Eat Well Foods compost deliveries totaled more than 75 pounds to New River Groves, a citrus grower and farm in Broward County, and to the North Beach Garden on Dickens Avenue at 74th St. on Miami Beach, an all-volunteer herb garden.
In addition to composting, Eat Well Foods prepares and delivers food for the homeless. "Unsuitable parts of the poultry and beef we cut away are used to create fresh soup stock, to which we add legumes, vegetables, and seasonings, and donate these soups to Stop Hunger, Inc., a non-profit organization that feeds those in need," Mark says.
Eat Well Foods is seeking additional ways to implement their Whole Earth Policy. Mark says he welcomes suggestions on ways to keep the program growing. "These are but the first baby steps we're taking in our quest to fully integrate into the balance of give-and-take, the balance of a conscious business who keeps their vision focused on the Whole Earth."
Eat Well Foods delivers tasty, convenient heart-healthy and diabetic-friendly meals from South Miami-Dade to Boca Raton, Florida, and insulated shipment to anywhere within the continental United States.
A complete media kit can be obtained by contacting Mark (Mario) Lew at 786.991.6602 or Hank Eder at hank(at)hankeder(dot)com.