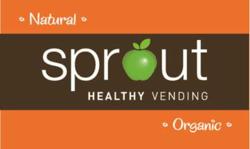 It has exposed the kids and the teachers to some different kinds of snacks that they wouldn't have thought to try otherwise.
Irvine, CA (PRWEB) March 13, 2013
Baton Rouge, Louisiana has responded well to Sprout Healthy Vending Operator Scott Hotard and his business, Team Hotard Vending. With six machines placed in the Baton Rouge area, Hotard has experienced great success and is happy to see his locations choosing healthier snack options.
McKinley Senior High School is among the local establishments hosting Sprout machines, and its students and faculty have become loyal healthy snack and drink customers. McKinley is home to about 1200 students, and before Team Hotard Vending, the school didn't have any snack machines on the premises. There are two machines on the campus, one located in the gym lobby and the other near the teacher's lounge. Scott took a chance by introducing the school to a machine with all-natural, organic snacks and successfully presented nutritious foods in a fun way.
"It has exposed the kids and the teachers to some different kinds of snacks that they wouldn't have thought to try otherwise," he explains. "The biggest challenge has been getting the kids to try some different things. There's a misconception about healthy snacks tasting like cardboard or something."
Scott took an interesting approach and decided to sell packaged dill pickles in his machines upon their launch, which sold out on a daily basis.
"The pickles were jumping off the coils. They're something you can get at a traditional concession stand, and that's really why they attack them. They see them in other environments but aren't used to seeing them in vending machines," says Hotard.
Initially, the more recognizable snacks like Snikiddy Grilled Cheese Puffs were the most popular, but Hotard came up with an efficient way to encourage other healthy snack purchases. "The difference is that they're choosing more of a variety. They're not honing in on four or five products like they were the first couple of weeks. I often mark down sales to get people to try new things, and the healthier snacks are selling now because they just needed some time to try them."
Hotard has also maintained a relationship with the school administration. He makes sure to listen to the requests of the vending customers and pays attention to the products they're buying and ones that aren't selling so well. He also leaves specific snacks in the machines even if they're not the most popular because they have one person purchasing them every day.
"I've been really impressed with how much dialogue there has been with the students and with the staff and teachers. I communicate a lot with the teachers when I go up there and they have been very receptive in general," says Scott.
Scott, with assistance from his fiancé, is responsible for the day-to-day operations of his healthy vending business and has found himself restocking his six machines about every other day.
When asked if he plans to expand his business and continue his partnership with Sprout Healthy Vending, Hotard replied with, "Absolutely. We are in the process of getting five more machines. We've done well with schools, but I am open to anyone that has the right amount of interest and that is looking to promote healthy living."
About Sprout Healthy Vending
Sprout Healthy Vending provides state-of-the-art vending technology, thousands of healthy and organic products and turnkey customer solutions for regional operators. Currently, Sprout Healthy Vending has over 70 operators in 40 markets in the U.S. with 1,000 individual locations projected by the end of 2012. To learn more about the company, locations and products please visit http://www.sprouthealthyvending.com or call (800) 450-7648.