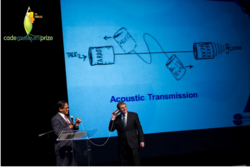 Gainesville, FL (PRWEB) March 12, 2013
Sixteen teams from around the state – the Sweet 16 – have advanced to the next round of the 2013 Cade Museum Prize competition. The $50,000 Prize, named after Dr. J. Robert Cade, the University of Florida physician that led the team that invented Gatorade, is an incentive prize for inventors and entrepreneurs in Florida. For the first time this year, the Sweet 16 inventors will help the Cade Museum teach creative thinking, science, and entrepreneurship to young students throughout Florida.
The 2013 Sweet 16 inventions includes OQULUS, a technology that can diagnose a wide range of diseases by examining the retinas of a patient's eyes; NeuroNet Learning, an innovative educational software that improves memory retention using physical activity; an artificial finger for finger amputees used by military veterans and children; and Partender, a mobile app that quickly calculates the volume of liquids in bottles to accurately and rapidly calculate inventory.
The next round of judging will include a video pitch from each of the Sweet 16 teams, as well as more detailed information on the company's path to market. The Final Four teams will be named on April 9, and the Cade Museum Prize Winner on May 9 at a gala event in Gainesville. Prize Night tickets are on sale at http://www.cademuseumprize.org.
For more information, please contact Richard Miles at 352-371-8001.