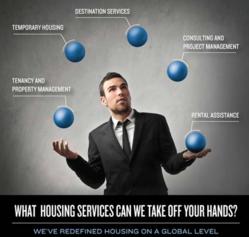 We can provide destination services and housing solutions tailored to fit each client's unique demands and budget.
Weston, FL (PRWEB) March 14, 2013
Stress Free Corporate Housing's Brazil division, which provides short and long term corporate housing solutions, garnered attention from the editors at Mobility magazine February publication. The magazine feature, about Helping Assignees Navigate the Challenges of a Rapidly Changing Country, informs the reader that that there a myriad of obstacles to assess prior to relocating or going on assignment in Brazil.
Mobility magazine's article points out that with the explosion in Brazil's intense growth has led to rapid and ongoing changes in laws, taxes, employment rules, banking regulations, currency exchange, and about everything a young country can go through—in addition to everything a new employee in the country will experience. A benefit of working with Stress Free Corporate Housing, according to the article, is that the corporation and assignee have a guide to navigate the process for workers who go on assignment for extended periods in global locations and help make a temporary assignment much more seamless for both employee and company.
Darin Karp, president of Stress Free Corporate Housing in Weston, explains how he educates his clients on the barriers to enter this country for assignees, how to mitigate risk and employee/family dissatisfaction which can cost a company millions on a failed assignment.
"Stress Free Corporate Housing offers customized solutions for a variety of clients," says Darin Karp Stress Free Corporate Housing's President. "We can provide destination services and housing solutions tailored to fit each client's unique demands and budget."
Stress Free Corporate Housing is a global provider of housing services that include Consulting and Project management, Temporary housing, Destination Services, Rental Assistance, Tenancy and Property Management. For more information visit us at http://www.stressfreecorporatehousing.com or contact Monroe Karp Executive Vice President (954)-436-1050. E-mail: mkarp(at)staystressfree(dot)com
About Mobility magazine: Find relocation industry answers here. Join more than 30,000 relocation professionals who read MOBILITY magazine every month. This informative tool for HR and relocation professionals across corporate, government, military, and service provider industries offers the best of all worlds. In each issue, relocation leaders share experiences, offer new solutions to age-old challenges, set industry trends, describe best practices and policies, as well as comment on key issues affecting the relocation profession.
Reprinted with Permission from Worldwide ERC