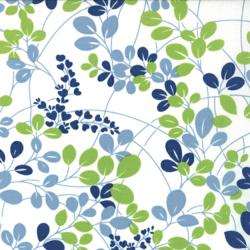 Edmond, OK (PRWEB) March 13, 2013
The Quilted Castle, the Web's premier location for quilting and fashion fabric, has announced a new line of Moda Fabrics, Simply Color, designed by V & Co.
The introduction of this fabric line to the company's collection, and the ability to make it available to customers everywhere through the Web, further enhances The Quilted Castle's already robust selection of cotton fabric.
With the addition of the Simply Color collection, yardage is now available to customers in highly-sought after patterns such as ombre and chevron, floral blossoms, leafy stripes and Bella solids. In addition, a variety of pre-cut fabrics are also available for purchase in Fat Quarter Bundles, Layer Cakes, Jelly Rolls, Junior Jelly Rolls and Charm Packs.
Moda Fabrics, renowned by crafters and fabric aficionados the world over, offers vibrant patterns, creative structures, and carries a reputation for quality and beauty. In 2012, Moda announced its collaboration with Vanessa Christenson, one of the standout names in the fabric and knitting community, to create Simply Color, a unique line of vibrant and modern designs with a wholesome edge. The fabric line demonstrates the use of bright colors, overt patterns, and attractive symmetry.
The new designs and patterns of Simply Color complement the diverse inventory available at the Quilted Castle, which offers an impressive selection which includes organic fabric, Japanese fabric, laminated fabric, quilt patterns, quilt kits, and a menagerie of fabric basics.
About the Quilted Castle:
The Quilted Castle is an online quilt and fabric retailer offering a variety of crafting needs including pre-cut fabric, fabric by the yard, quilt kits, as well as a creative selection of patterns from the most recognized fabric distributors in the industry. To learn more about the Quilted Castle, visit http://www.thequiltedcastle.com. The Quilted Castle is a 3dcart eCommerce website.