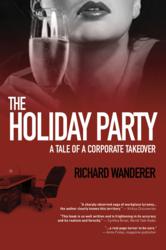 Los Angeles, California (PRWEB) March 13, 2013
Wanderer, the author of "The Holiday Party (A Tale of a Corporate Takeover", and a member of the California Bar, also spent over fifty years working in the advertising departments of major national magazines in New York City and Los Angeles. His personal experiences and background makes him an expert in the field of employer/employee relationships.
Richard discusses how employers should treat their employees with the respect and treatment that they deserve. He reminds employers that the 13th Amendment - i.e., ban against involuntary servitude - is something that should be taken into consideration when dealing with the employees. Richard suggests the following reminders for employers in treatment of their employees:
1. Pay your employees a living wage and reward them for a job well done;
2. Realize when an employee is hired that often times there are dependents that are a huge part of the employee's life as well. Therefore, the company has a responsibility to treat them with thought and respect. Employees have mouths to feed. Take care of them if it comes to downsizing or sale of the organization;
3. New hires should be trained by the hiring manager so that they are able to do their jobs efficiently;
4. Get the employees input before changes are made in the company's sales strategy. Company sales people inter-face with the public and know the problems involved in selling the company's products - often better than anyone else;
5. Once the company's sales organization has set up a commission arrangement don't lower it. If the commission structure is lowered, you lower the employee's spirit;
6. Praise the employees for a job well done when they accomplish their goals;
7. Take fear out of the company atmosphere and be constructive to employees when tasks need to be improved upon;
8. Set up realistic goals for the employees to achieve via good research and thought rather than pulling these goals out of a hat;
9. Reward employees by promoting from within where it is possible to do so;
10. Have an open door policy where management and employees can inter-face;
11. Keep a stable organization where employees are consistently reporting to the same middle management rather than one of constant change;
12. Do all that can possibly be done to make employees really feel they are part of the team which will help the organization's productivity;
13. Remember, too, men and women employees often exchange their youth for a paycheck. Therefore, provide for their welfare - especially for those who helped build your operation. Make sure there are adequate health and retirement plans available.
About Richard Wanderer's Novel:
Richard Wanderer's fictional suspense novel, THE HOLIDAY PARTY (A Tale of a Corporate Takeover), deals with the takeover of a family owned national magazine, run in an employee friendly manner, by a huge media conglomerate that installs a Draconian thrift regime. His characters and situations are often an amalgamation of scenarios he encountered over the years. His novel has received very strong reviews: Kirkus Reviews calls it, "A sharply observed saga of workplace tyranny"; San Francisco Book Review, "Page-turner": Midwest Book Review, "Highly recommended"; IndieReader, "Suspenseful";
Bookviews by Alan Caruba, "Leaps off its pages". The book's website and title is: http://www.theholidayparty-ataleofacorporatetakeover.com Title- THE HOLIDAY PARTY (A Tale of a Corporate Takeover)
Published by Two Harbors Press, the novel is in soft cover and also available on Kindle and Nook. Contact: Patricia O'Brien, St. Bernard Public Relations (818) 986-7777