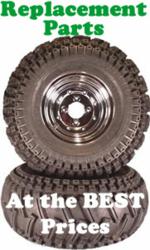 When buying direct from Golf Cart Parts Outlet, customers cut out the so-called "middle-men," saving time and money.
Olathe, Kansas (PRWEB) March 14, 2013
With a company philosophy that promises a 20-percent savings for their customers when compared to the competition and an elimination of the market "middle-men," Golf Cart Parts Outlet brings to its demographic target a one-stop-shop for the golf enthusiast. The business' comprehensive, product-rich website, golfcartpartsoutlet.com, is a virtual cornucopia of offerings in the golf cart accessories arena and represents an online catalog with a multitude of categories to explore.
The online catalog is broken up into several main categories, in which a bevy of seemingly limitless subcategories reside. The main focus of the product catalog is on the company's specialty, and it's here shoppers will find a dizzying array of products to fully customize their carts in such areas as Alarm and Security Items; Ashtrays, Cigarette Lighters and Phone Holders; Brush Guards and Racks; Cargo Boxes; Club and Ball Washers; Coolers and Brackets; Dash Assemblies and Like Trim; Details, Graphics, Wraps and Pinstripes; Divot Repair; Golf Cart Enclosures; Storage Covers; Fans and Breezeasy Blower Systems; Fender Flares; Floor Mats; Golf Cart Body Kits and much more.
The Parts area offers mechanically-inclined golf enthusiasts a plethora of products to keep their carts in top shape, ranging from spark plugs and gaskets to lock nuts, bolts, stake pins, aluminum extrusions, battery cable, steel plates, hardware kits, driven clutches and covers, press plate assemblies axle shafts and infinitely more. Further, choosing a golf cart charger for starting or deep cycle battery types has never been easier than through Golf Cart Parts Outlet – a wide array of chargers and accessories at competitive prices are offered through the company's catalog, including those from Fairplay G&E. The company's golf cart accessories expertise extends to the remaining categories in the virtual catalog, encompassing Golf Cart Covers, Lift Kits, Light Kits, Motors, Seat Kits, Tires and even Windshields.
When buying direct from Golf Cart Parts Outlet, customers cut out the so-called "middle-men," saving time and money, while shopping confidently knowing Golf Cart Parts Outlet promises to beat any lower price quoted by a competitor.
For more information about our products, visit our website http://www.golfcartpartsoutlet.com or send us an email: info(at)golfcartpartsoutlet(dot)com