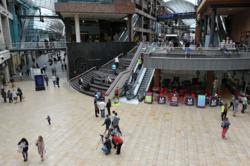 The drop in company closures is also an excellent sign for the local economy, proving that even in these difficult economic times, it is possible for new businesses to stay afloat
Bristol, Bristol (PRWEB UK) 29 March 2013
According to the latest Duport Business Confidence Report, there was a significant rise in company formation in Bristol during 2012. Over the course of the year, there were 6378 new company formations, representing 9% growth when compared to the previous year.
As well as a rise in company formation, there was also a drop in company closures, leading to an increase in net company growth overall.
The positive statistics in the Duport report suggest the city is beginning to recover from the impact of the recession. The Cabot Circus shopping centre, opened in 2008, has helped the retail industry thrive in difficult times. The Old Town is next in line for redevelopment, which should bring more independent retailers to the area and strengthen the retail offering of the city still further.
Managing Director of Duport.co.uk, Peter Valaitis said:
"Bristol is a vibrant, forward-thinking city, known for its excellent retail facilities and tourist attractions, so it's hardly surprising more companies are choosing to set up there.
"The drop in company closures is also an excellent sign for the local economy, proving that even in these difficult economic times, it is possible for new businesses to stay afloat."
The Duport Business Confidence Report for Bristol uses economic data to give an insight into the local business landscape. More information and statistics can be found at http://www.duport.co.uk/bristol.
Duport Business Confidence Reports are generated and released by Duport Associates Ltd. The data contained in these reports is assimilated and analysed by Duport using public record data from sources including Companies House, Office for National Statistics and Ordnance Survey. Duport Associates Ltd is a leading UK company formation agent, established in 1997 and registering around 10,000 new companies each year through its Companies House approved software.