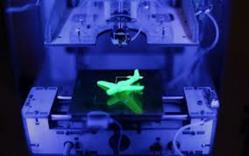 3D Printing redefines prototype modeling.
Gloucester, MA (PRWEB) March 13, 2013
Representatives of Computer Review announced today that the upswing in knowledge in the 3D Printing and Fabrication sector of the global knowledge economy has created a demand for new information. Growth in 3D Printing and Fabrication information affects decision-makers at investment firms, advertising and marketing companies, consumer electronics manufacturers and more.
This is news because the volume and nature of the information from the 3D Printing and Fabrication sector has exposed the fallacy of using ordinary search tools to manage the knowledge. This is not a benign sector of the global knowledge economy. Computer Review cuts out 95 percent of the noise in a typical search engine retrieval and delivers the knowledge subscribers are looking for.
The 3D Printing and Fabrication sector of the knowledge economy, concerned with using technology to produce three dimensional, solid objects from computer designed digital renderings, grows unabated, attracting industries like construction, dentistry, automotive, aeronautics and many more. If a consumer wants to know what features a laptop should have for successful mobile CAD design, they should first check at Computer Review.
When an investor interested in the latest development by security surveillance systems to use algorithms to detect life and apply analytical, three-dimensional models to help identify subjects, they should start their search at Computer Review. They would discover whether such analytics could accurately classify objects and people. If a researcher at a job placement firm wanted to understand how advances in CAM processes pose a threat to engineering jobs, they would find the information they need at Computer Review.
An entrepreneur with a sweet tooth might find it fascinating to know that soft chocolate can be used by a 3D printer to create a solid, three-dimensional candy bar from a computer animation -- and that the printers used are affordable. They might notice that the cost of personal fabrication printers had come down across the board. They would know it all if they subscribed to Computer Review. If a specialist in reverse engineering wanted to discover projects using powerful 3D reverse engineering techniques, a subscription would prove of value.
Subscribers to Computer Review can uncover how stereo-lithography can be used in the metal casting processes. For parties wanting information on how rapid prototyping is fabricating scale-models of parts from a CAD program, they would find the leads they need at Computer Review.
Because 3D Printing and Fabrication are used in so many processes -- jewelry manufacturing, geographical information processes, civil engineering processes, medical procedures, footwear manufacture and more. Countries from around the world are in a headlong race to discover new knowledge in this sector. The USA and China are home to fully two-thirds of the companies monitored by Computer Review, but other countries that make significant contributions include the Netherlands, the UK, Denmark, Canada, Ireland, Taiwan and India. Computer Review monitors 276 companies in 27 countries in the 3D Printing and Fabrication sector.
Counted among Computer Review's subscribers are college universities as well as government and corporate libraries. Computer Review provides source material from companies, executives, blogs, news outlets, universities, individuals and organizations. Topics like fused deposition and direct digital manufacturing require source material to be completely appreciated.
Enter any topic in the 3D Printing and Fabrication sector in a typical search engine and peruse the results. Imagine a service that cuts out 95 percent of the clutter and gets you the information you want. Computer Review delivers that service.