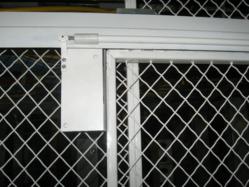 Phoenix, Arizona (PRWEB) March 13, 2013
DCS Global in Phoenix, DCS Global has patented the Ultra Glide, a sliding door closer that works to improve safety and property security for co-location and data centers. This patented device (US Patent #7124469) is universal and can be used on any type of sliding door, and is especially effective when used with wire containment and cage systems. Because the Ultra Glide is completely reliable and automatic, it reduces the potential for human error that can leave secure areas and equipment vulnerable to damage or theft.
Todd Mattson of DCS Global explains, "Security and protecting valuable information systems is a major concern in any data center. Clients of data and co-location centers rely on these facilities to secure valuable information and protect it against theft or other loss. It's essential that co-location and data centers take every possible precaution to protect their clients' interests."
Mattson says that utilizing cage systems and partitions with wire cage door closers is an effective way to enclose work areas, protect systems and create secure areas in co-location and data centers. "The Ultra Glide data center cage door closer is easily installed throughout these facilities to heighten security and protect expensive data equipment. Our data center customers have found that incorporating this inexpensive security measure adds an extra level of protection to their facilities, which translates to confidence and peace of mind for their clients."
For data centers that require subdivision or top-level security, the Ultra Glide data center cage door closer provides an added measure of security by ensuring that all sliding partition doors close securely every time. Mattson also points out that the versatile and dependable Ultra Glide has been proven extremely effective in distribution and warehouse storage facilities, clean-room and laboratory facilities and a wide variety of commercial properties.
DCS Global and DCS Pool Barriers are manufacturers and installers of a complete line of pool barrier and pool safety products, including Global's patented Ultra Glide sliding glass door closer. Since 2003, DCS Global has operated by providing unparalleled quality and superior customer service. DCS Global is currently seeking distributors for the Ultra Glide product.
For more information, please contact DCS Global at 623-825-7700 or visit http://www.dcs-ind.com.
For information on becoming a distributor, please contact DCS Global at sales(at)dcsglobalinc(dot)com.