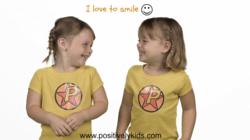 The Positively Kids team really wanted to create a fun affirmation delivery system, that would get kids to learn the concept of how to make themselves feel better inside themselves
San Diego, CA (PRWEB) March 12, 2013
Positively Kids is a multi-media company that produces entertainment products for children that instills positive thinking habits that will sustain them into adulthood. Captain Positive is a series of videos that incorporates Positively Kids messages in a fun, educational way for kids to enjoy, grow and interact with. 'I Choose To Be Happy Quiz' incorporates music, dance and all sorts of creativity while repeating this affirmation throughout. http://www.positivelykids.com
Happy is a universal language. Happy is what you feel when you look into the face of a laughing child. Everyone deserves to be happy and most certainly, children do. But sometimes, even children have experiences that cause them stress or pain. A new video just released by Positively Kids in the Captain Positive Series lets them know they can 'Choose to be Happy' no matter what is going on. Founded in 2010 by San Diego mom Stacey Crumrine, Positively Kids brings parents, caregivers, and educators many tools that they can give to precious little ones for maximum positive impact.
The award-winning Captain Positive Series is part of the Positively Kids line of multi-media entertainment products that teaches children the power of positive thinking. Positively Kids weaves its "Captain Positive" character, the super-hero of positive thinking, through CDs and DVDs that promote happiness and positive thinking. Previous titles include, "Be Happy", "Its Just Another Bump On The Road" and "The ABC Song." All Positively Kids products are designed as a means of preparing kids for the years and challenges ahead and arming them with a positive attitude to carry throughout their lives.
According to Dr. Joan L. Luby, whose research was published in Current Trends in Psychological Science in 2010, children as young as age 3 may exhibit signs of depression, such as the inability to experience pleasure from play, sadness or irritability. Approximately 3 – 8% of all children and adolescents have a depressive disorder and 20% show some depressive symptoms that do not meet the full criteria for a depression diagnosis.
Founder, Stacey Crumrine talked about how she created this series to help kids learn how to handle life's ups and downs. "The Positively Kids team really wanted to create a fun affirmation delivery system, that would get kids to learn the concept of how to make themselves feel better inside themselves. They learn that they truly can alter their mood and how they feel about things with positive words and positive actions."
Creative Child awarded Positively Kids' "Be Happy" CD its 2011 Best Of Excellence award. The Mom's Best Award also recognized the CD as one of its best mom-tested, mom approved media products of the year. Positively Kids empowers children by teaching them to tap into their inner strength and to embrace life's challenges. Utilizing laughter, music and kid-friendly affirmations, is a win win for them now and for their future lives as adults.
You can see the "I Choose to Be Happy quiz here http://www.youtube.com/watch?v=rD5MNF5YgEE
For more information, visit http://www.positivelykids.com.