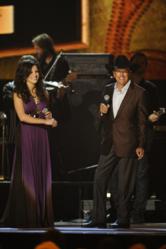 Denver, Colorado (PRWEB) March 12, 2013
George Strait and Martina McBride kicked off their Cowboy Rides Away Tour last January at the United Spirit Arena in Lubbock, Texas – as per tradition. Now they're nearing the end of the first leg of their farewell ride together.
Previously, the cowboy crooner, often called the King of Country Music, had formally announced his retirement and a final two-year tour with his popular singing partner. The tour performs with the Randy Rogers Band as part of the Houston Livestock Show and Rodeo in Reliant Stadium on March 17, 2013.
Next on the schedule are concerts in Greenville, South Carolina on March 22; Greensboro, North Carolina on March 23; Albuquerque and Las Cruces, New Mexico on April 5 and 6; North Little Rock, Arkansas on April 12; New Orleans, Louisiana on April 13; and San Antonio, Texas on June 1, 2013.
"George Strait and Martina McBride tickets are in very high demand right now, and trending at the top of our most popular concert tickets list," said Felina Martinez at online ticket marketplace BuyAnySeat.com. "That's why we're proud to be able to offer fans a complete and continuously updated listing of discount The Cowboy Rides Away Tour tickets, with a worry-free guarantee to protect their purchase," said Martinez.
"To access the selection of cheap George Strait tickets we now have available, customers can go to BuyAnySeat.com and search for George Strait – then select their tickets," said Martinez.
George Strait rode to success after his first single "Unwound" topped the charts in 1981. Now, in 2013, he says his The Cowboy Rides Away Tour will be his final goodbye ride, starting in 2013 and continuing into 2014.
"It's been a hard decision for me to make, but as far as the touring goes, I've decided that I'm not going to tour anymore after these next two years. This is going to be a very special, emotional tour for me. Everywhere we're going holds fond memories and I'm looking forward to paying my respects," said Strait after announcing his farewell tour.
"I kinda always had it in the back of my mind, when I turned 60, it might be the time to start thinking about it (retiring from touring). It was kinda important to me to pick that time. I believe I made the right decision. Only time will tell." Strait celebrated his 60th birthday on May 18, 2012.
Strait has enjoyed tremendous success as a country music artist, and has been called "King George" and "The King of Country Music" by many. He is known for his unique style of western swing music, bar-room ballads, honky-tonk style, and fresh yet traditional Country music.
George Strait has recorded 59 number-one hit singles as of 2012; and he holds the world record for the most number-one hit singles, more than any other artist in the history of music on any chart or in any genre.
Strait has also been nominated for more Country Music Association (CMA) and Academy of Country Music (ACM) awards, and has more wins in both categories, than any other artist. Plus, he has sold more than 68.5 million albums in the U.S. and his certifications include 13 multi-platinum, 33 platinum, and 38 gold albums. (Source: Wikipedia.com)
McBride has been called the "Celine Dion of Country Music" for her big-voiced ballads and soprano range. Seven of her studio albums and two of her compilations have received an RIAA Gold Certification or higher. McBride has sold over 14 million albums, and won the CMA's "Female Vocalist of the Year" award four times. She is tied with Reba McEntire for the most wins. McBride has also won the ACM's "Top Female Vocalist" award three times.
To shop for discount cheap George Strait tickets, visit BuyAnySeat.com.
About BuyAnySeat.com: An online ticket marketplace, BuyAnySeat.com connects sports, theater and other live entertainment fans to an extensive worldwide network of ticket sellers. The site's simplified listings and navigational tools enable fans to easily locate, compare and purchase inexpensive, discounted or lower-priced tickets to virtually all advertised sports and entertainment events around the globe.
The site, which is PCI-compliant and Norton Secured, also provides customers with a complete Worry-Free Guarantee on all ticket purchases. Based in Denver, Colorado, BuyAnySeat.com is a subsidiary of Denver Media Holdings. For more information, please visit http://buyanyseat.com.