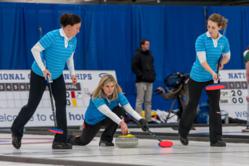 Ice sports are one of the mainstays of life in the northern parts of the United States and form a huge part of our region's athletic identity
Hudson, WI (PRWEB) March 12, 2013
Hit the ice! This month the online color printing company Docucopies.com proudly sponsors the United States' team of women curlers as they compete for 1st Place at the World Women's Curling Championship in Latvia.
Hot off their 1st Place Win at the US Curling Championships in Green Bay, Wisc., last month, "Team E. Brown" is now the sole team representing the United States in the world championships. The WWCC will see these women competing against teams from Canada, China, Denmark, Germany, Italy, Japan, Latvia, Russia, Scotland, Sweden and Switzerland for the title of world's greatest.
And while they're thrilled by the opportunity to earn the world's highest honor in curling, high-pressure competition is not a new concept for these women, who all have a proud portfolio of participation in elite championships from across the country and globe, including the Winter Olympics.
Erika Brown (1998 Nagano Winter Olympics), Debbie McCormick (1998, 2002 and 2010 Winter Olympics), Jessica Schultz (2006 Winter Olympics), and Ann Swisshelm (1998 Winter Olympics) have made the sport a centerpiece in their lives for decades and have proven themselves time and time again to be among the best of the best. Regardless of the outcome this month in Latvia, all will be returning to the Olympic Trials this November for the chance to again represent their country in the 2014 Winter Olympics in Sochi, Russia.
"Ice sports are one of the mainstays of life in the northern parts of the United States and form a huge part of our region's athletic identity," says Docucopies.com's Marketing Director and Vice President, Jeff Corbo. "It's truly an honor to sponsor these women as they represent our nation and battle for the world title."
For more information on the athletes in Team E. Brown and their huge portfolio of past victories and honors, visit the team's Facebook page. For more information on the World Women's Curling Championship, visit wwcc2013.curlingevents.com.
For more information on Docucopies.com and their digital color printing services, visit them online at http://www.Docucopies.com or call 877-222-4842.