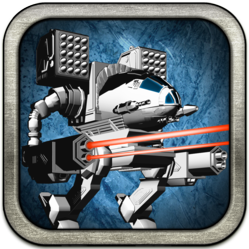 Singapore (PRWEB) March 14, 2013
Singapore developer Personae Studio announced today the release of MechWarrior: Tactical Command for iPhone. Another great step in the MechWarrior franchise, MechWarrior: Tactical Command stays true to the BattleTech universe while enhancing the game-play and graphics from the previous iPad version.
MechWarrior: Tactical Command gives players command of 30 BattleMechs to lead through 21 different missions across three planets using real-time strategy and multi-touch controls. It still provides the MechWarrior feel, staying true to the MechWarrior story and BattleTech traditions, but allows players to enhance their gaming experience with the game now available on all iOS platforms. The game can now be downloaded for $3.99 in the iTunes App Store.
"It's the same MechWarrior feel we all love, but now it's in the palm of your hand," said Edmund Koh, director of Personae Studios. "MechWarrior: Tactical Command stays true to the MechWarrior story and BattleTech traditions. We are proud and excited to release the game across all iOS platforms."
MechWarrior: Tactical Command uses a simple multi-touch screen and top-down game play model. This allows players an overhead view of the battle field so they can strategically control and lead a lance of MechWarriors to victory.
MechWarrior: Tactical Command features include:

Stunning cut-scenes and graphics optimized for iOS 6 with retina display
Now a universal app with iCloud integration across iOS devices
Full camera rotation within the 3D environment
Real time tactics and unique game controls
Authenticity to the original BattleTech universe and beloved board game
21 unique missions across three planets
Three difficulty modes and complete customization for resources, technology, weaponry and BattleMech upgrades
MechWarrior: Tactical Command for iPhone is now available on iTunes and is partly funded under the Media Development Authority's Production Assistant grant. For more information on MechWarrior: Tactical Command visit http://www.mechwarriortc.com/ and follow MechWarrior: Tactical Command on Facebook and Twitter.
About Personae Studios
Personae Studios LLP was formed in October 2007 with a vision: To dive into one's creative mind in an attempt to fuse traditional gaming methods with the electronic gaming space. The studio's goal is to introduce new and engaging computer gaming concepts by incorporating the roots of traditional computer gaming methods, with the innovative gameplay elements driven by modern technologies. Based in Singapore, the studio specializes in the design and development of iOS games and supporting infrastructures. Personae Studios believes in designing games that suit all occasions, while bringing entertainment closer to wherever anyone goes.