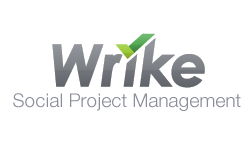 We responded to workers' ever-increasing mobility by literally bringing their favorite planning feature into their pockets," said Andrew Filev, Wrike's CEO.
San Jose, CA (PRWEB) March 11, 2013
Wrike, a leading provider of social project management software, today announced the availability of a dynamic Gantt chart as part of the latest version of its mobile apps for iPhone and Android smartphones.
The mobile interactive timeline, one of the core planning tools that thousands of project managers rely on, inherits the key functions from Wrike's web app. Even when they're on the go, users can easily browse project plans from a bird's-eye view or in more detail, and quickly adjust them with a few taps. Just like on the Gantt chart in Wrike's web app, mobile users can reschedule tasks by dragging and dropping them, convert them to milestones, and change other details, for example, assignees.
Ready for installation from the App Store and Google Play, users can also, in three easy steps, configure Wrike's free mobile app to receive push notifications of project updates. As with the software's web-based version, schedule changes are readily visible in real-time to all team members.
"When it comes to productivity of information workers, the two most important technological advances of the last decade are the cloud and mobile. Mobility is a trend that has an unstoppable power and it's only growing bigger. Our goal can be described in a simple way – to provide information workers with the best collaboration experience, whether they are working on their desktop or on their phones. Whatever makes their life easier, that's what we'll do," said Andrew Filev, Wrike's CEO. "A Gantt chart is a simple and powerful planning tool. When things are moving fast, you might want to react to changes instantly, having real-time access to project schedules at any time and being able to adjust deadlines on the fly for the whole team. So, we responded to workers' ever-increasing mobility by literally bringing their favorite planning feature into their pockets."
To get Wrike's project management app for iPhone, please go to the Apple App Store. Wrike's mobile app for Android is available for download on Google Play.
About Wrike
Wrike is the leading on-demand, online project management and collaboration solution that helps both co-located and distributed teams get things done together in real time. Wrike's product vision is based on the innovative "work graph" model, connecting all work in one central hub that is comfortable to manage and navigate. Adopting the features of the "social graph" to the project collaboration space, Wrike allows users to bring together as many projects as they need and work on them in a scalable environment. Wrike is led by CEO Andrew Filev, a seasoned software entrepreneur, product manager and project manager who launched his first software company at the age of 18 and quickly grew it from a startup into a thriving international business. As more and more businesses trust Wrike for collaborating in the cloud, the company shows stable, triple-digit growth year-to-year. Wrike's customer base is notable for its wide international outreach and famous brands on board, including ECCO, Deloitte, Adobe, EMC, Stanford University and more.
Wrike is a trademark of Wrike, Inc. All other product names are trademarks or registered trademarks of their respective holders.