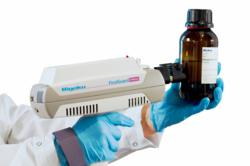 Tucson, AZ (PRWEB) March 12, 2013
Rigaku Raman Technologies, inc., a leading provider of innovative handheld Raman spectrometers, today announced that it will be showcasing a new and advanced version of its flagship FirstGuard™ handheld Raman analyzer at next week's Pittcon 2013 Conference. Featuring an updated architecture and several new software upgrades, the new FirstGuard continues to deliver the industry's most comprehensive analysis by being the first handheld device equipped with 1064nm wavelength excitation. Complementing these product improvements, Rigaku Raman also announced that it has opened a new manufacturing facility in Tucson, Arizona where FirstGuard and other Rigaku Raman spectrometers are manufactured using state-of-the-art optical science and analytical device development.
The FirstGuard's ability to operate at 1064nm wavelength has set a new industry standard for being able to identify a significantly broader range of raw materials and provide very rapid validation, while also maintaining key customer requirements such as ease-of-use, portability, affordability and reliability. While competing 785nm wavelength excitation products can only identify approximately 70% of encountered raw materials in pharmaceuticals and consumer goods manufacturing due to chronic fluorescence interference, the FirstGuard 1064 can reliably identify those same materials and also identify appreciably more materials that 785nm excitation cannot. The 1064nm technology also enables analysis through many dark glasses and plastics – something that is difficult to impossible with 785nm spectrometers. To see a live demonstration of FirstGuard in action, prospective customers are invited to stop by the Rigaku Raman booth #1825 during Pittcon 2013.
"Rigaku Raman is committed to making the world a safer place by leveraging the power of science and technology to deliver innovative products such as our 1064nm FirstGuard analyzer," said Bree Allen, General Manager at Rigaku Raman Technologies. "When dealing with safety-critical applications, our customers can't afford to be 70% accurate in their on-site RMID process, having to rely on validation of 30% of their materials by other time-consuming techniques. The FirstGuard can quickly and simply analyze many more of these raw materials which is why it is becoming the world's number one choice for a Raman handheld analyzer. We look forward to bringing the FirstGuard's new capabilities to our customers and are committed to leading the industry with the type of innovation that can contribute to the enhancement of humanity."
The New and Improved FirstGuard
The FirstGuard is a new breed of handheld instrumentation designed to be taken into the factory warehouse or the field for real-time, fast sample measurements. A product of an ardent focus on customers' needs, the new and improved version of FirstGuard launched includes key new features such as:

An integrated bar code reader enabling the FirstGuard to be turnkey for GMP Raw Material Identification (RMID) applications in the Pharmaceutical industry.
Enhanced user account management enabling better fleet management and control.
Upgraded data reporting and archiving offering improved analysis tracking and accounting.
Improved data and operator security to support simpler integration into FDA regulated manufacturing environments.
Equipped with an integrated vial holder and hot swappable lithium ion battery, FirstGuard is ideal for GMP facilities and is configured with secure software for 21 CRF part 11 compliance. Bringing analysis to the point of need, the FirstGuard can significantly cut the time and costs associated with lab testing, ensure product quality and provide a rapid return on investment.
Rigaku Raman's New Tucson Facility
Strengthening its global operations and ensuring the company continues to deliver innovation in all of its products, Rigaku Raman recently opened a new manufacturing facility in Tucson, Arizona. Tucson is considered a renowned center for optical sciences and analytical device development and Rigaku Raman will maintain its headquarters for engineering, production and service at this facility. The company's manufacturing of portable Raman analyzers has been running in volume at this new state-of-the art manufacturing site since late 2012.
About Rigaku Raman Technologies
Rigaku Raman is a leading global developer of innovative portable, handheld, easy-to-use Raman spectroscopy devices that provide fast, reliable, economical chemical identification and composition analysis for such key applications as raw material, chemical, anti-counterfeiting validation for pharmaceuticals; threat screening; mineral and gemstone authentication; and academia. Our global team of experts provides world-class support, enabling our customers to realize the immediate technical and ROI benefits of our products. For more information visit http://www.rigakuraman.com.
###
Copyright 2013. All rights reserved. Rigaku Raman Technologies, the Rigaku Raman Technologies logo, and certain other Rigaku Raman Technologies trademarks and logos are trademarks and/or registered trademarks of Rigaku Raman Technologies. All other trademarks are the property of their respective owners. Information in this release is subject to change without notice.
Contact Info:
Kelly Karr
Tanis Communications, Inc.
+1 (408) 718-9350
kelly(dot)karr(at)taniscomm(dot)com