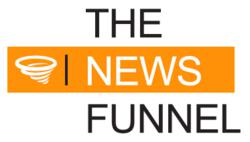 New York City (PRWEB) March 12, 2013
The News Funnel, a new, free website that enables real estate professionals to create a customized news funnel based on their unique preferences, has announced that more than 300 companies are now using the site's Company News Channel service to upload their content directly to the site's several thousand subscribers.
Since launching in the real estate industry this past spring, The News Funnel has grown to now offer its free site throughout the east coast. The News Funnel scans thousands of publications and blogs to deliver a customized news stream for its subscribers. What's also unique about the site is that it allows companies to upload their own news to the site via their own News Channels and therefore reach industry professionals instantaneously without any editing. The 300 plus companies that have created News Channels represent a broad cross section of the industry including developers, REITS, brokers, engineers, architects, marketing firms, mortgage brokers, banks and many more. The site also curates news for every aspect of the real estate industry such as office, industrial, retail and residential.
"We are very proud to now have over 300 companies using our site to distribute their original content directly to the industry," stated Michael Beckerman, founder and CEO of The News Funnel. "One of the primary goals of our site is to create the largest database of industry news, both from the media as well content from companies themselves. As we continue to expand nationally, we anticipate the growth of our corporate users will be increasing at an aggressive pace. Companies recognize that with The News Funnel they can reach their target audiences incredibly efficiently, without any third party editing of that content, and as often as they like without any cost. The feedback we have received from our corporate clients has been incredibly positive as a result," Beckerman added.
A few of the most recent Company News Channels established on The News Funnel include:
Boston Properties – Washington, D.C.
http://www.thenewsfunnel.com/companynewschannel/boston-properties-1
CoreNet Global Mid-Atlantic Chapter
http://www.thenewsfunnel.com/companynewschannel/corenet-global-mid-atlantic-chapter
The Rockefeller Group
http://www.thenewsfunnel.com/companynewschannel/rockefeller-group
American Real Estate Partners
http://www.thenewsfunnel.com/companynewschannel/american-real-estate-partners
CompStak
http://www.thenewsfunnel.com/companynewschannel/compstak
RetailMLS, LLC
http://www.thenewsfunnel.com/companynewschannel/retailmls-llc
About The News Funnel
The News Funnel is a free, web-based news aggregator for real estate professionals that sources industry-specific news from trade publications and major media sources. Subscribers create customized news feeds for their geographic market, industry segment and areas of interest that are accessed on their personalized home page or via a daily email.
The News Funnel features Company News Channels (CNCs) — web pages that are available at no charge to companies to upload press releases, event notifications, blogs and market research reports that are then distributed into the funnels of subscribers. The website also features simple and advanced search capabilities. Aggregated content is stored for six months and users can search this content by keyword, market, industry segment or area of interest.
Headquartered in New York City, The News Funnel was founded by Michael Beckerman, a 25-year veteran of the public relations and media industries. The News Funnel launched in mid-2012 and is now curating news in a total of six markets, including Boston, New York, New Jersey, Pennsylvania, Delaware and Washington, D.C. For more information visit http://www.thenewsfunnel.com.