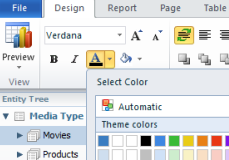 We initially were looking for a web-based Ad-hoc reporting tool for a small set of our power users, but found that this could be the only reporting tool we needed, even for our built-in 'canned' reports.
Enrico Bernoni,
Supply Chain Sciences
Kirkland, WA (PRWEB) March 12, 2013
GrapeCity today announced that Supply Chain Sciences, a management consulting and decision support software firm working with global clients, has selected ActiveReports Server as their web-based ad hoc reporting solution.
Concerned about integration:
Supply Chain Science's main concern was whether they would be able to integrate ActiveReports Server with their existing SaaS product. They needed to provide a Single Sign-On (SSO) for users of their system and the reporting tool.
ActiveReports Server provides the entire solution:
They were initially looking for a web-based Ad-hoc reporting tool for a small set of power users, but found that ActiveReports Server also met their needs for built-in 'canned' reports.
Logical data models and report scheduling were bonus features:
For Supply Chain Sciences, other benefits include the ability to create a user-friendly model that represents the data for the reports and the ability to schedule reports and email them automatically.
Key business benefit:
Supply Chain Sciences can now empower their end users to build their own reports, which takes their product to the next level, making it a tool rather than just another interface that they have to use.
Learn more about how Supply Chain Sciences selected their ad hoc reporting solution.
About ActiveReports Server
ActiveReports Server is a 100% web-based, rich, ad hoc reporting solution for business users that enables them to easily create interactive reports. Its browser-based, ad hoc report designer and secure, scalable storage support multi-tenant self-service reporting and accelerate self-service BI much more effectively than traditional reporting tools. Learn more at http://www.activereportsserver.com/.
About GrapeCity
For over 25 years, GrapeCity has provided award-winning reporting and business intelligence solutions, software services and enterprise solutions to Fortune 1000 companies in high tech, financial, healthcare, government and other vertical markets. Our focus is on providing innovative solutions that give deep business value to our customers. Learn more at http://www.grapecity.com.