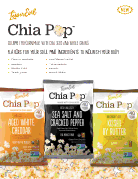 Wilton, CT (PRWEB) March 13, 2013
LesserEvil Healthy Brands, architects of the organic snacking experience, will soon roll out Chia Pop, the newest product to join the great-tasting healthy snack line up. After a successful launch with Chia Crisps, which landed on Dr. Oz's Ultimate Shopping List, this past week LesserEvil's most recent chia snack innovation Chia Pop was revealed at the 2013 Natural Foods Expo West Trade Show in Anaheim, Calif.
"The LesserEvil family worked hard to transform our low-calorie organic popcorn into something that not only bursts with flavor, but also provided incredible health benefits," said Charles Coristine, president and CEO of LesserEvil Healthy Brands. "Together our team took a classic snack to a whole new level, enhancing popcorn's natural health benefit with omega-rich chia seed."
Chia Pop is a Non-GMOProject verified, gluten free, organic whole grain popcorn, free of artificial ingredients. Made with milled Salba® Chia, Chia Pop delivers a tremendous nutrient profile abundant with protein, fiber, minerals, antioxidants, and heart-healthy omega-3 fatty acid. Three delectable flavors, including Theater Style, Salt and Pepper, and Aged White Cheddar, hit shelves this month in select stores.
About LesserEvil Healthy Brands
LesserEvil Healthy Brands is a snack food company founded in 2004 with the mission to create natural, healthier snack food than many other snack foods on the market. The company's award winning all-natural snacks are produced without trans fats, preservatives, artificial flavors and colors, high fructose syrup and gluten ingredients that many other snack products use. LesserEvil's snacks are full of flavor, and still gives people a sinfully delicious treat without the guilt. LesserEvil has innovated the snack industry with their LesserEvil solution. They believe that life is about balance, and they don't believe in being perfect. LesserEvil vows to continue its mission to fight bad snacking with a little goodness. Join them in their journey towards a LesserEvil life.