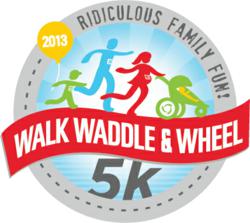 WALK WADDLE & WHEEL is Ridiculous Family Fun
St. Petersburg, Florida (PRWEB) March 12, 2013
As the fastest growing online destination for parents of growing families, EverydayFamily.com is encouraging its members to get involved within their local communities, serving others and celebrating healthiness and happiness, with its explosive 5k event, WALK WADDLE & WHEEL.
EverydayFamily.com launches the first 2013 WALK WADDLE & WHEEL at Spa Beach Park, in St. Petersburg, Florida, on May 11, 2013. To register for the 5k race/walk and after-party festival, go to http://www.walkwaddlewheel.com.
EverydayFamily.com's goal for WALK WADDLE & WHEEL is to promote awareness on a variety of health topics while encouraging community camaraderie. EverydayFamily.com promises "Ridiculous Family Fun!" – and includes countless opportunities for family building. Thousands of participants can enjoy the family friendly 5k race/walk, followed by a festival-style party that includes live music, a Kid Zone with a Quad Bungee and climbing walls, an obstacle course, healthy food options, raffles and more.
"We call the WALK WADDLE & WHEEL 'ridiculous family fun' because our events are designed to activate communities, bringing friends and family together in a unique, healthy, and fun environment," said Tony Golden, CBDO of EverydayFamily.com. "Our only rules are that families come prepared to participate, sweat a little … and have a ton of fun!"
EverydayFamily.com will host five WALK WADDLE & WHEEL events across the nation this year. Continuing its desire to "Grow Good Across America," EverydayFamily.com will donate 25 percent of each WALK WADDLE & WHEEL event's sponsorship revenue to local groups and non-profits within that community. EverydayFamily.com's partner for Spa Beach Park and St. Petersburg is YMCA.
"With an 'everyone is a winner' attitude and our intent to bring communities together, WALK WADDLE & WHEEL is truly one-of-a-kind," said Shiloh Johnson, Director of Content for EverydayFamily.com. "We expect 30,000 participants for our 5 events, and we couldn't be more thrilled to get out there and have some ridiculous fun with our wonderful members."
About WALK WADDLE & WHEEL™
WALK WADDLE & WHEEL stands for "Ridiculous Family Fun!" Imagine a creative collision between a wild and crazy festival-inspired event, and a family friendly 5K race and interactive health and wellness event. WALK WADDLE & WHEEL is an innovative way to promote WALK WADDLE & WHEEL encourages awareness on a variety of health topics, offer resources on health promotion and disease prevention, build community camaraderie and most importantly, send an important message to members: EverydayFamily.com and its sponsors value their families' health and want to give back to the communities where they live, work and play.
About EverydayFamily.com
EverydayFamily.com (EF) is a family driven website – in every sense – featuring a growing community of over three million members who share their everyday parenting experiences. EF is an online home and established resource for experts and parents who have advice and information to share, as well as those who are seeking guidance and support as they move through their family's journey, from preconception, to preschool, and beyond. EF invites everyone to get comfortable and share stories, thoughts, advice, and opinions with other families. The editors at EF, as well as the entire EF community, are dedicated to providing daily content for families seeking advice, information, and support… and to giving back to the communities supporting us.