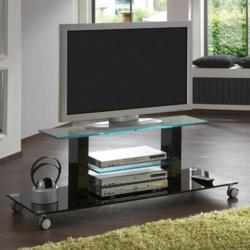 FurnitureInFashion Launched Opus Glass TV Stand For The Modern Home
(PRWEB UK) 12 March 2013
In keeping with the current demand for contemporary and modern furniture, FurnitureInFashion has launched the new Opus Glass TV Stand as part of its latest collection of glass TV stands. Opus Glass TV stand is a stand out addition to FurnitureInFashion's contemporary collection of glass TV stands. Built by fusing Italian design concepts, Opus TV stand adds an air of luxury to any living room. Opus glass TV stand is as timeless as it is elegant and desirable. It is the type of TV stand that will stand the test of time so that homeowners don't have to worry about buying a new TV stand for their living room. This beautiful glass TV stand will always be in fashion.
Opus Glass TV stand is a stunning piece of furniture with a mixture of gloss black structure and black safety glass base. The black safety glass base has wheels for easy movement of this gorgeous stand around the house. The side supports of this TV stand are made of quality MDF in gloss black finish. Standout feature of this TV stand is the storage area in the form of shelves. The shelf has enough space for storing all entertainment equipment. The glass shelves have thickness of 12mm and are sturdy enough to support any weight. The lower shelves can support weight of around 25kgs. The top of Opus Glass TV unit is capable of supporting 80kgs.
Speaking about FurnitureInFashion's new Opus Glass TV stand, CEO and managing Director of FurnitureInFashion said, "We have worked closely with consumers to create our best ever Opus glass TV stand. This shows our new innovative approach for 2013 and demonstrates our continued provision of very best glass TV stands to our customers." The CEO also said, "Opus glass TV stand is set to add ultra modern look in your living room by providing fresh concept to cater all contemporary and modern tastes."
Opus glass TV stand is a revamped version of the existing glass TV stands collection of FurnitureInFashion. The MD commented, "Opus glass TV stand is our answer to numerous enquiries for a TV stand that not only fits a TV but also offers storage space for other entertainment units. This glass TV stand sits beautifully in both modern and traditional homes." Opus glass TV stand is available at affordable price.
Opus glass TV stand is ideal for LCD, Plasma and HiFi units. It is an attractive and elegant unit. Opus glass TV stand is a part of full range of Glass TV stands of FurnitureInFashion. Glass TV stands of FurnitureInFashion have modern designs and are timeless, making them suitable for many different homes. There are number of contemporary designs found throughout the collection of glass TV stands. Standout features include Italian designs, storage compartments and compartments especially designed for various entertainment units. The collection of glass TV stands has been created after extensive customer research. The customers were surveyed to find out what they required in TV stands. For most homeowners, staying up-to-date with the latest trends was one of the most important factors when buying TV stands for their homes.
With its eye on quality, FurnitureInFashion is committed to provide only the very best furniture for their customers. With an excellent service record, FurnitureInFashion is well reputed, not only for its robust catalogue and fine furnishing, but also for its commitment to stand behind its products.
About FurnitureInFashion
FurnitureInFashion is a UK based online retail business. It supplies furniture items from its German based warehouse and has a showroom in Bolton, UK. The company provides everything from umbrella stand, wall art and room dividers to bedroom, bar stools and computer tables. FurnitureInFashion offers excellent free delivery within UK and has a fantastic customer service as well. For further information and details about the sale, please visit http://www.furnitureinfashion.net