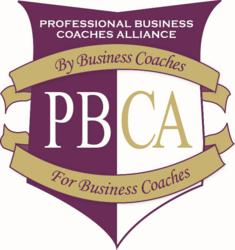 For anyone considering business coaching who wants to remain independent (as opposed to being a franchisee), the PBCA is the premier alliance of independent coaches in North America
Syracuse, NY (PRWEB) March 12, 2013
The Professional Business Coaches Alliance (PBCA), North America's premiere alliance of independent business coaches, has announced that it will hold its next training and certification program in Syracuse, NY, from April 15 thru the 19th. These comprehensive and interactive classes teach business-savvy individuals how to become skilled business coaches as well as how they can then market their new skill sets to clients.
PBCA's training and certification programs are highly interactive and involve a substantial amount of role practicing to help reinforce the information individuals learn. By experiencing first-hand the type of situations business coaches face, people are able to better understand and prepare for the similar situations they will face in the real business world. PBCA also provides students with a full-year of scheduled calls to help them build a successful coaching practice, while also continuously helping them become even more effective business coaches.
"For anyone considering business coaching who wants to remain independent (as opposed to being a franchisee), the PBCA is the premier alliance of independent coaches in North America," explained PBCA President Jon Denney. "Every single member of the PBCA has an 'abundance' mentality and generously gives time and assistance to the other members. Every coach in the PBCA has gifts in some areas of business effectiveness, but nobody is an expert in all areas. Collectively, however, we have an incredible amount of expertise in every single area of business and personal development."
And as a graduation of PBCA's certification program himself, Denney understands the importance of teaching people how to become effective business coaches. "Years ago I learned how to become a business coach through the PBCA. Now, it is my honor to lead such an amazing alliance of people dedicated to the profession of business coaching."
Founded in 2005, The Professional Business Coaches Alliance (PBCA) is the premier business coaching alliance in North America. It provides world-class certification training for new coaches, and then serves as a membership organization for the finest business coaches in North America.
For more information about the Professional Business Coaches Alliance, please contact Jon Denney via email at jon@pbca.biz or by calling 866-333-1240.