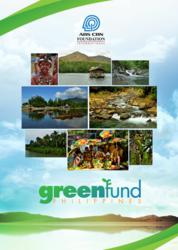 Our dream is bold – to alleviate poverty – but we will do it, one community at a time.
Redwood City, Calif. (PRWEB) March 11, 2013
Despite being home to lush islands and what the world regards as the ocean floors unmatched in biodiversity, the Philippines still finds itself struggling with poverty. The tackling of many social issues have been long-entrusted to ABS CBN Foundation International whose work in the fields of child care and disaster relief made it a global brand for philanthropy. Now expanding its public service, the nonprofit launches Greenfund Philippines, a 360°program that addresses livelihood, environmental protection, education, and sustainability. With a string of successes in pilot locations, it aims to replicate this treatment in multiple provinces and islands around the country.
By working towards a green economy to avert the worst consequences of global warming and the degradation of the ecological environment, Greenfund Philippines begins its noble endeavor.
"We began to pilot this program several years ago, trying to find a formula that works. We found that in order to provide the optimum environment for growth and wellness of the Filipino child, it was important to provide their families with a means of livelihood that did three things: become a sustainable source of income, utilize and protect our natural resources, and ultimately, restore dignity to the lives of the least among us," said Gina Lopez, founder of ABS-CBN Foundation, Inc. in the Philippines, beneficiary to the United States-based organization. "The great news is that we found that formula. We will replicate this all over the country and leave no stone unturned."
Some successful projects include the reforestation of the La Mesa Dam in Metropolitan Manila, which serves as the main water source for area. Today, it is a visitor's haven for euphoric escape from urban living. In the southwest, Palawan, also known as the Philippines' last frontier, boasts of Ugong Rock - an 18 million year old rock formation that is now a destination for spelunking and ziplining. Its Bacungan River, once at the hands of aggressive mangrove cutting now showcases a floating restaurant and river cruise that supports locals, who in turn, safeguard their river. Along a nearby river called Iwahig, families lived in unimaginable destitution until Greenfund Philippines stepped in and helped them form a firefly watching spectacle, replete with paddleboats and visitor centers. This particular model was a breakthrough in ecotourism and earned it the gold award at the Pacific Asia Travel Awards in 2010.
"When I visited the projects in the Philippines, I saw more than hidden treasures of our country that all the world should see. I was amongst our countrymen who once lived in abject poverty and now, they held their heads up high with pride and dignity," narrates Jo Ann Kyle, Managing Director for ABS CBN Foundation International. "We've seen what we can do on a smaller scale and the impact that it has on the economy, our people, and the environment. Our dream is bold – to alleviate poverty – but we will do it, one community at a time."
Targeted upcoming projects include work in Sibuyan Island in the province of Romblon, tagged as the world's densest forest and site of 34 discovered waterfalls.
The Filipino child remains at the core of ABS CBN Foundation International's philanthropy. With Greenfund Philippines, the service expands to ensure that not only will every child be afforded with an education and provided necessary social services, but that he has a dignified environment to live in. And by empowering local families to engage in a dynamic economy with an environmental consciousness, it guarantees a quality of life for generations to come. One community at a time.
To learn more about Greenfund Philippines and ways to get involved, visit http://www.abscbnfoundation.org.
##
ABOUT ABS CBN FOUNDATION INTERNATIONAL:
ABS CBN Foundation International is a 501(c)3 non-profit organization dedicated to improving the lives of disadvantaged Filipino families in the Philippines and around the world. Its flagship program, Bantay Bata (Child Watch), is a child abuse rescue operation that responds to an average of 15,300 calls for assistance a year. The program assists more than 21,000 children and families in relocation communities and feeds at least 4,400 severely malnourished children a year. Its education program serves 4.2 million elementary school children and their teachers. Other programs include Sagip Kapamilya (disaster rescue, relief and rehabilitation), ETV in schools (school reform in elementary schools) and Sagip Kalikasan (environmental programs).
In the United States, the organization partners with Filipino-American organizations and associations in addressing community issues--youth truancy, housing, issues affecting the elderly, health, and emergency needs. For more program information, visit http://www.abscbnfoundation.org.
MEDIA ASSET:
TV Commercial: http://youtu.be/wc7p0SBSqrg