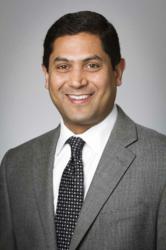 "As we continue to look at new business opportunities, Sam and his team will serve as an integral part of our future growth."
Dayton, Ohio (PRWEB) March 11, 2013
CareSource, a non-profit managed health care company, has promoted Sam George to Senior Vice President of the Business Partner Group. This position was created to align all operational services within CareSource.
In the new role, George is responsible for overseeing and managing the Business Partner Group to ensure an efficient and sustainable operational platform for all products, services and markets.
"Sam was promoted to Senior Vice President to support our new organizational re-alignment," said Pamela Morris, President and CEO at CareSource. "He is a proven leader with operational and information technology experience which make him a great fit."
George joined CareSource in 2011 as the Vice President of Information Technology overseeing the upgrade of multiple key IT systems and developing a long-term strategic IT roadmap. Prior to CareSource, he spent 10 years at Nationwide Insurance in a variety of operational and IT roles.
"As we continue to look at new business opportunities, Sam and his team will serve as an integral part of our future growth," explained Morris.
George holds a Master of Science degree in Computer Science and Engineering from Case Western Reserve University in Cleveland and a Bachelor of Science degree in Computer Science from Mysore University in India.
About CareSource
CareSource is a non-profit health plan headquartered in Dayton, Ohio. As one of the largest Medicaid managed care plan in the country, CareSource understands the challenges consumers face navigating the health system. We are committed to putting health care within reach for approximately 900,000 members we serve in Ohio and Kentucky. For more information, visit http://www.caresource.com.
###