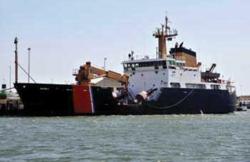 Whether performing scheduled overhauls or emergency repairs that involve cylinders, repair crews put flexible ball-style hones to good use
Los Angeles, CA (PRWEB) March 13, 2013
Brush Research Manufacturing (BRM), makers of ball hones for big bore diesel engines, is proving that diesel mechanics prefer flexible honing tools for engine repairs and overhauls. BRM's Flex-Hone® tool provides a superior surface finish with a crosshatched pattern that promotes optimum lubrication.
The High Cost of Engine Failure
Cargo ships today are workhorses that spend most of the time at sea. If they are dead in the water from an engine failure, the costs can range from $35,000 to $150,000 per day. And since many maritime crews today don't have diesel mechanics, it is critical that they receive the needed repair or overhaul services quickly, whether the job is scheduled or an emergency repair.
The main engines, including most of the international big bore models like Sulzer, Yanmar, Daihatsu, Man B&W and MAK, are considered "big bore" diesels with cylinders ranging up to 40-inches in diameter. Diesel generators, often used to supply electric power to oceangoing vessels, also have relatively large bores, with the average at approximately 20 inches.
Cylinder Deglazing for Crosshatched Patterns
When doing overhauls or repairs that involve cylinders, it is predictable that cylinder liners will have to be deglazed and crosshatched. For cylinder deglazing jobs, the best tool is the compact, portable ball-style hone from Brush Research Manufacturing.
The BRM Flex-Hone® Tool
Widely known by the brand name Flex-Hone®, the ball-style hone is a highly specialized abrasive tool that is instantly recognizable by its unique appearance. Featuring small, abrasive globules that are permanently mounted to flexible filaments, the product is a flexible, low-cost tool that is a favorite among mechanics and metal workers due to its cylinder deglazing, de-burring, edge blending and crosshatching capabilities.
The ball hone is available in a range of radius sizes, including the larger ones needed to service cylinders of 40-inches and larger. They are highly portable and easy to use. All you have to do is take spring-loaded compensators, hang it up over the engine and put a good size drill motor on it. Then you attach the flexible hone and simply move it up and down.
An Inexpensive Alternative to Air-Operated Equipment
The flexible hone is a highly efficient and inexpensive alternative to air-operated equipment that hones with the stones, where you must line up the machine with the studs on the engine block.
Not only does the ball hone set up much more quickly, but just a few passes up and down inside a cylinder liner accomplishes thorough deglazing as well as crosshatching. The Flex-Hone® tool's independently-suspended, abrasive globules both self-center and self-align to the bore as well as compensate for wear, all of which facilitate close-tolerance finishing work.
Plateau Finishing for Piston Ring Seating
Another important capability of the ball-style hone is its plateau finishing capabilities, a process by which cylinder walls are subjected to a bore finishing procedure that increases the life of both the cylinders and the piston rings. The purpose of plateauing is to remove loose, cut, torn and folded material within the cylinder, create valleys and remove peaks that would otherwise damage rings or seals. The result is that more lubricant is retained, improving engine startup and performance.
Cylinder Hones for Diesel Engines
While many available tools share fundamental characteristics, there is a significant quality difference between a generic tool selected from a catalogue and a custom-adapted flexible honing tool engineered to meet the highly specialized requirements of the applications in which they are deployed.
Although the Flex-Hone® can be used for refurbishing cylinder liners, the tool is quite versatile and adaptable to many applications where honing the inside of cylindrical shapes is needed, including cleaning pipe bores and valves on some pump designs.
About Brush Research Manufacturing (BRM)
Established in 1958, Brush Research Manufacturing has been solving difficult finishing problems with brushing technology in the sophisticated environments of nuclear energy, aerospace and computer technology as well as industrial applications. The company offers a full line of additional industrial abrasive products, a small sampling of which include power and miniature brushes, and twisted wire tools.