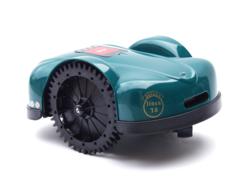 "I am so excited to bring these robotic mowers to the Greater Des Moines area. LawnBott® mowers are the state of the art in robotic mowing. Attendees are going to be amazed! With over 13 years in robotic mowing, these robots know how to cut grass
Atlanta, GA (PRWEB) March 11, 2013
No, LawnBott® mowers don't swim, but Kyodo America is proud to announce that LawnBott® of Central Iowa will be exhibiting the LawnBott® robotic mowers for the first time in Des Moines at the Iowa Flower, Lawn & Garden Show March 15-17, 2013 at the Iowa State Fairgrounds. For more information and discount tickets, click here http://iowaflowershow.com/.
Andy Timm, owner of LawnBott® of Central Iowa, will be offering live demonstrations of the LawnBott® throughout the show. This will be the first time homeowners in the Greater Des Moines and central Iowa areas will be able to see a LawnBott® live, up close. Hideki Tsuji, Sales Manager for Kyodo America, will also be attending the event to answer questions from interested homeowners.
LawnBott® is a line of completely automatic robotic mowers. From the LB3510 for larger yards to the new for 2013 LawnBott® LB75 robotic mower for smaller yards, there is a LawnBott® for almost every yard and home. The LawnBott® LB75 robotic mower is brand new for 2013 and brings robotic mowing to a larger audience offering fully automatic performance at a lower price. With key features such as fully programmable, LCD display, rain sensor, auto-recharging and capable of handling up to 3 zones for the ultimate in yard control, the LB75 sets the standard in affordable automatic mowers. See the video, here: http://youtu.be/6ZKZDkVihJA.
In preparing for the show, Mr. Timm notes, "I am so excited to bring these robotic mowers to the Greater Des Moines area. LawnBott® mowers are the state of the art in robotic mowing. Attendees are going to be amazed! With over 13 years in robotic mowing, these robots know how to cut grass."
Kyodo America Industries, Co., LTD, is an Atlanta, GA based manufacturer of lawn & garden products and the LawnBott robotic mowers. LawnBott's were originally developed in Italy and are making their way across the US and Canada. Since 2000, our robotic mowers have been helping homeowners maintain their yards without the sweat and aggravation of conventional mowers. To find out more information and the dealer who services your zip code, please visit our website at http://www.LawnBott.com.