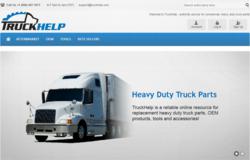 Portland, OR (PRWEB) March 11, 2013
TruckHelp (http://www.truckhelp.com), an online retailer for truck parts and accessories announced today that it launched a new website.
The new interface, branded as "TruckHelp Parts", features clean, attractive design and comes with many new features to help visitors find the right parts with ease. Social sharing features, grouped discounts, promotion items and offers are all part of the new site.
The company also noted that user login area has been revamped as well. Easier order management, precise order tracking and social product sharing are all available to logged in customers. Ability to search hot and discounted items, as well as suggestive searches to help aid in finding the right heavy duty truck parts.
Besides launching a killer look, TruckHelp was busy expanding its inventory that now boasts north of 15,000 in stock part numbers from over 25 manufacturers. Some of those include known brands such as Fleetguard Filters, Meritor suspension, Truck-Lite lighting and even OEM parts from the likes of Cummins Engine, Volvo and Detroit Diesel.
The company reports solid growth in commercial e-commerce and is prepared for opportunities coming its way.
About TruckHelp
TruckHelp (TruckHelp.com) is an online destination for heavy duty trucks, parts and accessories. The company offers large inventory of commercial truck parts and trucks for sale from dealers nationwide.