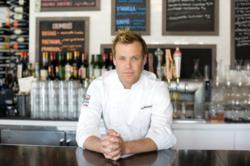 I had a 'Save the Seals T-Shirt' as a five-year-old boy, and I can't even for the life of me understand why something so horrible still goes on in this current age.
(PRWEB) March 21, 2013
Acclaimed celebrity chef Brian Malarkey has signed on to The Humane Society of the United States' Protect Seals campaign to bring Canada's commercial seal slaughter to an end.
Malarkey joins more than 6,000 top chefs, restaurants and food businesses that have teamed up with HSUS' Protect Seals campaign. They have pledged to avoid purchasing some or all Canadian seafood until the Canadian fishing industry and government agree to end the commercial seal slaughter. HSUS has proposed a federal sealing industry buyout as a win-win solution to ending the annual commercial slaughter of up to hundreds of thousands of baby seals.
The commercial seal slaughter in Canada is one of the largest kills of marine mammals in the world. Canadian fishermen club and shoot the pups, 98 percent of whom are less than three months old, primarily for their fur.
Chef Malarkey states: "The harp seal slaughter has gone on for far too long, and I'm going to do my part as a chef to put an end to this senseless killing. I had a 'Save the Seals T-Shirt' as a five-year-old boy, and I can't even for the life of me understand why something so horrible still goes on in this current age."
John Grandy, Ph.D. of The HSUS said: "By joining with The Humane Society of the United States' Protect Seals campaign, Chef Malarkey is a taking strong and principled position against the cruelty of the commercial seal slaughter. We are thrilled to have his support. As a rising star, Chef Malarkey is able to draw attention to the suffering and fear that baby seals experience at the hands of sealers. We hope that more chefs and businesses follow in his footsteps and sign the Protect Seals pledge."
Malarkey is the chef behind six highly acclaimed restaurants in San Diego, Scottsdale and Austin opening in May, including Searsucker, which Time Magazine rated the #2 hottest restaurant in the country. After being featured in and hosting several television series, he joined ABC's new cooking competition show "The Taste" as a judge and mentor in early 2013. A graduate from Le Cordon Bleu Portland, Malarkey has garnered more than 75 restaurant industry awards thus far in his career. He plans to expand his business to include 15 more restaurants nationwide in the next five years.
Top chefs already supporting the campaign include Charlie Ayers, Mario Batali, Richard Blais, Cat Cora, Susan Feniger, Carla Hall, Mary Sue Milliken, Michael Mina, Nancy Oakes, Michel Richard, Aarón Sanchez, Kerry Simon, Curtis Stone, Tre Wilcox and Patricia Yeo.
Some of the companies participating include Trader Joe's, Whole Foods Markets, Harris Teeter, The Patina Group, China Grill Management Inc., Batali – Bastianich Hospitality Group, Jimmy Buffett's Margaritaville Cafés, Legal Sea Foods, the Bon Appétit Management Company and Ted Turner's Ted's Montana Grill. See the full list here.
A free smart phone app, released in the spring of 2012, available iPhone and Android phones at humanesociety.org/sealapp, allows individuals to locate seal-friendly businesses that have signed the Protect Seals pledge.
Canada's seal slaughter is conducted by commercial fishermen who earn, on average, less than 5 percent of their annual income from killing seals. Polling in 2010 by research firm Ipsos Reid shows that 50 percent of Newfoundland sealers holding an opinion support a federal industry buyout – a plan in which sealers would be compensated for their licenses, and funds invested in economic alternatives in the communities involved.
Facts:

Canada's commercial seal hunt is the largest slaughter of marine mammals on Earth, with more than two million seals killed in the past ten years alone.
Veterinary experts say Canada's commercial seal hunt is inherently inhumane because of the environment in which it operates and the speed at which the killing occurs.
The vast majority of income for commercial sealers comes not from killing seals but from seafood including crab, shrimp and lobster.
Canadian government representatives have said the only way the commercial seal hunt can be ended is if the fishing industry demands it.
To give the Canadian fishing industry an incentive to act, The HSUS launched the Protect Seals boycott of Canadian seafood in 2005.
Media Contact: Heather Sullivan, 301.548.7778; hsullivan(at)humanesociety(dot)org
Subscribe to Wayne Pacelle's blog, A Humane Nation. Follow The HSUS on Twitter. See our work for animals on your Apple or Android device by searching for our "Humane TV" app.
The Humane Society of the United States is the nation's largest animal protection organization, rated the most effective by its peers. Since 1954, The HSUS has been fighting for the protection of all animals through advocacy, education and hands-on programs. We rescue and care for tens of thousands of animals each year, but our primary mission is to prevent cruelty before it occurs. We're there for all animals, across America and around the world. Celebrating animals and confronting cruelty – on the Web at humanesociety.org.