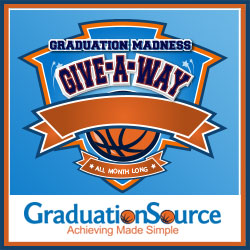 The leading online retailer for your graduation products.
Port Chester, NY (PRWEB) March 11, 2013
For colleges and universities March is synonymous with basketball and the NCAA's March Madness tournament. GraduationSource is sponsoring its own version of March Madness called Graduation Madness. As a one-stop shop for your graduation needs, schools can purchase all of their caps, gowns, tassels, hoods, and a full line of accessories from our vast inventory. March is the perfect time to purchase graduation supplies to ensure their arrival by that important date.
To qualify for the contest, schools must place an order for at least 50 graduation caps, gowns, and tassels during the month of March. A special coupon code takes 15% off the order and enters the school to win 25 free professional basketballs. All orders placed in March are entered into the drawing automatically.
After placing an order of at least 50 cap, gown, and tassel sets, customers will qualify for one of the four prizes. The 25th, 50th, 75th, & 100th qualified orders placed will receive their prize. The contest continues through March 31, 2013, and all orders meeting the criteria are eligible to win. Graduation Madness is an excellent way for schools to win some basketballs to add to their athletic program.
As the leading online retailer for graduation products, GraduationSource has served more than 30,000 schools throughout the world. Customers can choose from the full line of graduation regalia, including products for preschool - kindergarten, elementary - high school, or colleges and universities.
Visit The Website or contact GraduationSource by phone at (800) 352-6162.