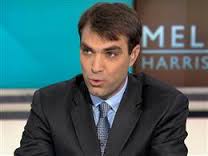 Look in your own back yard and use the data right there to figure out what's working and lift it up.
CINCINNATI, Ohio (PRWEB) March 11, 2013
Jeff Edmondson, managing director of KnowledgeWorks subsidiary Strive, discussed ways communities can improve education outcomes for children Saturday as a guest on MSNBC's "Melissa Harris-Perry" show.
Harris-Perry, an author and political science professor at Tulane University, hosts the show live from 10 a.m. to noon in New York on Saturdays and Sundays. Edmondson was joined in the studio during a 9-minute segment by Joy Ann Reid, managing editor of The Grio; Mayor Bill Finch of Bridgeport, Conn.; and Valarie Kaur, a writer and filmmaker.
The entire show can be watched here.
The segment, under NBC's "Education Nation" franchise, focused on community involvement in education and early career tracking for students. Harris-Perry noted that as a sixth grader an aptitude test she took at her small-town middle school suggested she be steered to the vocational-technical track -- away from honors classes – so she could be trained to become a funeral director. Her mother intervened, she said.
Edmonson said effective use of data can expose students to various interests but not necessarily place them down a career track that may or may not be suitable for them.
"Right now we don't have to do what they did to you back in the day. We have enough resources there to support children that if we were really intentional about how we used all these resources, we could individualize learning for every single child," Edmondson said. "So once we do understand your interest we shouldn't just think about the school house or the Vo-tech as the only options to help you tease out what you may be interested in."
Edmondson also noted that his wife, a teacher, once worked long hours to try to focus on the individual needs of students, but her work – like those of other teachers like her -- occurs in isolation. He said non-profits, social service agencies and others must be intentional about using data as a tool to identify interests or needs for students and to remove the prescriptive work from being the exclusive responsibility of teachers.
Edmondson said the most important advice he has for a community wanting to do this work is to "look at your local data, because chances are the interventions exist in your own back yard. Don't act like something in New York is going to save the day in Dallas, or in Portland, or in Kalamazoo. Look in your own back yard and use the data right there to figure out what's working and lift it up," Edmondson said.
Strive was founded in 2006 by Knowledgeworks in Cincinnati and Northern Kentucky. The Cincinnati-based social enterprise in 2011 launched a national effort replicating Strive's cradle-to-career approach. Since then, more than 80 communities have joined the Strive Network and are mobilizing their own community resources to improve education outcomes for students.
Edmondson, who received the 2012 American Express NGen award, has become a go-to resource around the issue of community engagement, collective impact and other issues related to education reform. He was recently featured on a panel during NBC's "Education Nation" with host Dr. Nancy Snyderman."
Strive is a national movement focused on the success of every child from cradle to career. Building on the principles of collective impact, Strive is helping communities create the civic infrastructure to unite stakeholders around shared goals, measures and results in education, and organizing a national network of cradle to career communities. Strive is a subsidiary of KnowledgeWorks.
KnowledgeWorks is a social enterprise that seeks to create sustainable improvement in U.S. student readiness for college and careers by incubating innovative schools, influencing education policy, and engaging in education research and development. Our portfolio includes New Tech Network, EDWorks and Strive.