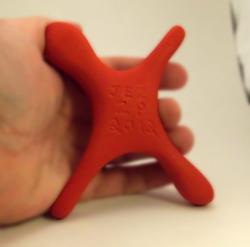 What you do today is important, because you are exchanging a day of your life for it.
- Unknown
Phoenix, AZ (PRWEB) March 12, 2013
Even a small muscular injury can lead to a chronic pain pattern which persists for months or even years, waiting for the scar tissue to heal completely and become aligned with the surrounding muscle tissue. Zing Partners LLC announce the arrival of Zippy Soother device for advanced practitioners. The Soother is a hand cast, hand finished device designed to combat the long term effects of soft tissue injuries and accompanying scars, adhesions, or deeply embedded knots. The Zippy Soother is an "instrument-assisted soft tissue mobilization" (IASTM) device intended to enable advanced users such as professional therapists, athletes, trainers, and highly experienced home practitioners to effectively address and break down scar tissue and restrictions in fascia and connective tissue for themselves or clients.
The Zippy Soother provides more than twenty unique surfaces and edges aimed at gently breaking up adhesions between fascia and muscle fibers as well as soothing joints and pressure release points in soft tissue with a single hand-held tool. When soft tissue injury occurs the muscle, fascia, or connective tissue becomes irritated and the body causes inflammation in an effort to restrict movement and protect the injured tissue. With continued training or strenuous activity the body continues to counter the irritation by laying down scar tissue. While healthy muscle tissue lines up in parallel lines, scar tissue is tangled and disorganized, contracting down upon itself to shorten the muscle bundle or fascia for further protection. Like a weak link in a chain, the random alignment of these new fibers becomes a "weak link" in your muscle, leaving it highly susceptible to re-injury. http://en.wikipedia.org/wiki/Soft_tissue_therapy
The Zippy Soother tool offers multiple treatment modalities in a versatile multi-function tool to promote circulation and healing, and align and integrate scar tissue with muscle fibers to regain maximum strength and flexibility. IASTM tools are popular with therapists and advanced home practitioners for breaking the muscular pain cycle at its root, accelerating the healing process to restore muscular balance in a lasting way. Each Soother is hand cast in extremely tough, high temperature resistant, rigid urethane, hand finished for effective use. To obtain your Zippy Soother go to http://www.zippymassage.com
Zippy Rolling Ball Therapy massage devices are available online and on Amazon. View Video #1 on the Zippy RBT YouTube Channel. The Zippy Rolling Ball Therapy submission video for The Core77 Design Awards @ http://youtu.be/ajJWhzr1c5M. Visit Zippy RBT – Rolling Ball Therapy on Facebook and "Like". Follow @ZippyRBT on Twitter, https://twitter.com/ZippyRBT. LinkedIn at Zippy RBT, Zing Partners LLC.