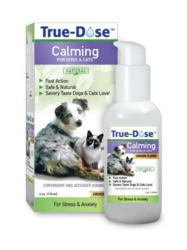 True-Dose is excited to be part of Pet Flow's popular "Spoiled Rotten" Campaign launching March 15.
St. Louis, Missouri (PRWEB) March 12, 2013
True-Dose is proud to announce a new partnership with Pet Flow, the No. 1 site for pet food delivery service. Pet Flow will now distribute True-Dose natural, quality pet supplements, including Calming, Joint Care, Skin &Coat and Dental Care.
PetFlow provides top brands of pet food, treats and supplements directly shipped to thousands of pet owners' homes each month. Now PetFlow customers will also be able to add their favorite True-Dose supplement to their orders.
True-Dose is also excited to be part of Pet Flow's popular "Spoiled Rotten" Campaign launching March 15. Spoiled Rotten is a gift club specially made to get tails wagging! Each month, Spoiled Rotten participants receive a box of full fun surprises for their fury friends.
"I'm very excited about introducing True-Dose Calming into PetFlow.com's popular 'Spoiled Rotten' program," said Trish Richter, True-Dose Director of Marketing. "I feel our products will be very well received with customers who want a natural solution to help mitigate stress & anxiety in their pets. In addition, other True-Dose products, such as Joint Care, Skin & Coat and Dental will be carried in the PetFlow.com store for health-conscious pet owners who choose to receive supplements on a continual basis shipped directly to their doorstep."
In the Spoiled Rotten program, for $24.99, participants are sent $40 worth of high-quality, treats, toys and accessories specially tailored for cats or dogs and hand-picked by the Pet Flow staff. All edible products made in the USA. The innovative Spoiled Rotten campaign has been featured in The Wall Street Journal, The New York Times, on CNN, NBC and CBS. Spoiled Rotten is a great way to discover new products you – and your pet – love. For more information about Spoiled Rotten, visit http://www.petflow.com/spoiled.
About True-Dose
True-Dose, headquartered in St. Louis, MO, uses a patented system to produce high-quality natural supplements for canines and felines. Our products address Joint Care, Skin and Coat Care, Calming, Wellness and Dental Care. True-Dose supplements are manufactured in a human-grade pharmaceutical facility, following the same strict testing and quality standards mandated by the FDA for state-of-the-art pharmaceutical product manufacturing. Our raw ingredients are certified and tested to ensure they meet our strict quality standards. The founders of True-Dose have long had the goal of providing human-quality, pharmaceutical-grade products to our four-legged friends.
"All of our products are sourced and tested to human standards and manufactured in a pharmaceutical facility," said Joe Wayman, Founder and President of True-Dose. "Our goal with responsible sourcing is to ensure the same quality for pets that we expect for humans. Pets have now established themselves as part of the family, often considered to be like one of the children. True-Dose has a mission of better companion animal health with the understanding that pets have a tremendous impact on both the mental and physical health of humans."
True-Dose ensures quality ingredients as well as accuracy and ease of dosage. True-Dose products have been clinically proven to have faster absorption rate and higher peak concentration than tablets and chewables in a head-to-head crossover study conducted by the Oklahoma State University Veterinary Animal Science and Research Departments.
About PetFlow.com
Pet Flow is a web-based pet food delivery service that features quality pet supply brands of food, treats, and supplements. Pet Flow currently ships more than 1,000,000 pounds of pet food per month to pet parents across America. Petflow.com was founded in 2010 by entrepreneurs Joe Speiser and Alex Zhardanovsky. The company was created on the premise that properly feeding pets should never be a chore. Pet Flow is the fastest growing pet food company in North America.