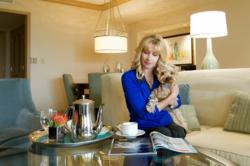 Scottsdale, Ariz. (PRWEB) March 11, 2013
The Forbes Five-Star Canyon Suites at The Phoenician continues to personalize the resort experience for all guests with its expanded dog-friendly program, providing a welcoming and relaxing home-away-from-home for visitors' special four-legged friends.
New complimentary features include Canyon Suites plush dog bedding and signature bowls, along with elegant bone-shaped mats. Through a partnership with local business Oh My Dog! (OMD), a welcome amenity is presented to each canine, including a natural treat -- such as a "Bark Jacobs" shoe cookie -- and eco-healthy toy. For an additional fee, OMD also offers a variety of pet concierge services -- a canine massage, private photo shoot, nighttime tuck-in service, and more.
Canyon Suites pooches will find themselves in the lap of luxury with a new room service menu, created and prepared in-house by The Phoenician's award-winning culinary team. The bill of fare features such delectable selections as Puppy Poppers (grilled chicken bits in natural juices, $12); Slobbering Salmon (from Skuna Bay, served with brown rice, $15); Canine Casserole (turkey, carrots, green beans and brown rice, $14) and for dessert, Pawsickles (Greek yogurt, fruit and carrots, $6). Through a special partnership with the Arizona Humane Society, 10 percent of room service sales from the first year will be donated to the organization to aid homeless, ill and injured animals.
Earlier this month, the Arizona Humane Society provided several exquisite "models" for a photo shoot to promote The Canyon Suites' expanded dog-friendly program. Taking part in the project was Buster, a 5-year-old Yorkshire Terrier; Gracie, a 1-year-old Soft Coat Wheaten Terrier; and Dotty, a 1-year-old Poodle mix. Although the models quickly went from photo shoot to forever homes, there are plenty of loveable dogs, cats and critters awaiting adoption. For more information on how you can make a difference, visit http://www.azhumane.org.
"Dogs are truly members of the family, and as such, are traveling more and more with their owners," said Phoenician Managing Director Mark Vinciguerra. "At The Canyon Suites, we recognized this growing customer base, and responded by providing more tailored offerings that create a memorable experience for all."
Accommodations for Canyon Suites guests with dogs will be restricted to the first floor, ensuring the comfort of those visitors who may have sensitivities or other concerns.
The Arizona Humane Society was built on a foundation of compassion and kindness toward animals. As AHS evolves, it is focused on inspiring compassion in others through its appreciation of humanity and its reflection in animals. Animals provide unconditional love regardless of the hardships they've faced. AHS makes every effort to model its own behavior on the accepting, gentle spirit of animals with the hope of compelling the community to act on their behalf.
Nestled at the base of Camelback Mountain, the Forbes Five-Star Canyon Suites is an exclusive 60-room boutique hotel featuring 40 suites and 20 guestrooms, located on the grounds of the 250-acre Phoenician. The Canyon Suites is designed to provide more customized, enhanced offerings for guests, along with access to all Phoenician programs and amenities, reaching beyond expectation to deliver the exceptional. Both The Canyon Suites at The Phoenician and The Phoenician are owned and operated by Starwood Hotels & Resorts Worldwide, Inc., as part of The Luxury Collection. For additional information, please call (480) 941-8200; (800) 888-8234 or visit http://www.thephoenician.com.
###