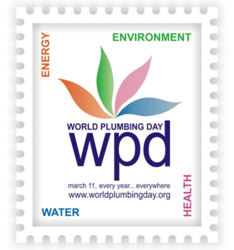 Baltimore, MD (PRWEB) March 13, 2013
Have you ever wondered what is in tap water? Did you know that certain minerals and chemicals can affect the taste, color and odor of water? Did you know that if a person is on a private well system, it is up to the owner to ensure its safety?
Len The Plumber knows it's a lot to take in at once. That's why they are offering a free water analysis in honor of World Plumbing Day. World Plumbing Day is an international event today, March 11, to celebrate the importance plumbing plays in the health and safety of today's world.
In the world there are over 884,000,000 people that still do not have access to clean drinking water and sanitary conditions. This results in thousands of unnecessary deaths every year.
Clean water is a limited resource that most take for granted. The United States has one of the safest water systems in the world. But there are still a number of reasons to be vigilant with tap water, especially if the person is on a private well.
Len The Plumber will come out to the person's home and test their system for iron, pH level, and hardness. The results will be provided on the spot and the technician will be able to provide a number of recommendations on what can be done to improve the drinking water.
Whether it is a water softener, sediment filter or adding a neutralizer, the technician will be able to refer the customer to the appropriate products to use and they will be able to install it for the customer as well.
"This was our small part to helping promote Plumbing Day; for people to see and understand how important a role plumbing plays in their everyday life and throughout the world," stated Lisa Fairley, Director of Marketing, at Len The Plumber.
New advancements in plumbing have made great strides in making water consumption become more efficient, recyclable and most importantly, safe and sanitary. Many are embracing these new ideas with the new equipment purchased for homes such as low-flow shower heads and low flow toilets. Using rain barrels to collect rain water has become very popular for homes. Even municipalities across the nation and world are investing in sewage water recycling and filtration programs in an effort to reuse the water and remove the waste. All of these efforts help in conserving water while keeping the supply safe and sanitary.
These new technologies are helping to reduce the depletion of this finite resource while new research is discovering more cost effective ways of converting salt water into drinkable fresh without detriment to the environment. Also, think of all the new tankless or hybrid water heater solutions that have become popular. These new technologies reduce the amount of energy and water needed to produce heat.
Energy efficiency is something that is a part of mainstream vocabulary now. Many new homes are now purchasing energy efficient appliances whether it is a water heater, boiler or washing machine. All of this is making the world a greener place and helping to conserve our most precious resource, water.
Len The Plumber is celebrating World Plumbing Day by offering a free water analysis through March13th, a $200 value. Visit World Plumbing Day to learn more about this international holiday or The World Plumbing Council.