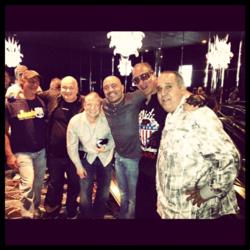 In order to predict the future, you must invent it.
Las Vegas, Nevada (PRWEB) March 12, 2013
Headlining comedy clubs throughout the country and Las Vegas, filming his new pilot, hosting his comedy podcast and running his studio all while raising his family, where does Michael Wheels Parise, find the time?!
Comedy veteran, Michael Wheels Parise is not shy when it comes to expressing what he feels, and he feels the way to a persons heart is through the internet. Comedy Podcasts are the hottest thing to hit the entertainment industry since television, "Anyone with a name in the business is doing one," says Wheels Parise. "Joe Rogan, Marc Maron, Adam Carolla, Doug Benson are in the top 10 comedy podcasts... Now its my turn... and I'm excited about doing it in Las Vegas and that's why I opened Parise Group Productions." Parise Group Productions has just launched in Las Vegas and is currently seeking people that want to have a podcast produced and launched within the right outlets and avenues.
"We just signed on to do leasing expert, Ross Fried's show called, 'The Rent.'" Ross has been in the leasing industry in Las Vegas for over 20 years and is also a local Las Vegas Comedian. The Rent is a podcast about both sides of the spectrum in the apartment leasing world and is controversial yet informative with a funny twist. "Then we have my show, 'I DO TINGS!'. It's about living the good life. Light up whatever you are smoking and pour yourself whatever you are drinking and lets get this party started." It airs every Monday and Thursday and it guarantees complete entertainment and hysteria as well as some very opinionated babble. Celebrity interviews and original content,for example; "If you new who I was I wouldn't be talking this way" "Chef to Chef" talk, "Best in Show" "Joking and Smoking" and "Comedians Round-table" Guaranteed to be in the top 10 comedy podcasts 2013.
"I already had on Gallagher smoking and joking from his hotel room in Las Vegas, Tom Green and Steve O backstage at there show at the Riviera, where I actually prank them with double talk. And an anonymous quest who cheats on her husband then beats him, Mrs XXX" Wheels says 'I DO TINGS!' Its is an adult-rated show for mature audiences.
25-year-veteran comedian Michael Wheels Parise. Wheels has been the opening act for Andrew Dice Clay for over 20 years stemming from their Brooklyn days back at Pips Comedy Club on Emmons ave in Sheepheads Bay as well as numerous appearances on HBO, and Late Night Talk Shows. Wheels has starred in movies such as "Meet Wally Sparks" with Rodney Dangerfield as and "A Low Down Dirty Shame" with Keenan Ivory Wayans and Jada Pinkett Smith, just to name a few.
Wheels Also Costarred in a VH-! Reality Show called "Dice Undisputed" with Andrew Dice Clay in 2008. After spending 20 years in Hollywood California at the World Famous Comedy Store as a house favorite, he decided to make Las Vegas his new home with his family. Still having a passion for comedy and acting he decided to bring his act to Vegas and can be seen headlining all the clubs Las Vegas as well as all over the country.
Michael Wheels Parise just launched "Parise Group Productions", a production company/marketing group. PGP Studio is located at 2790 East Flamingo Rd. Ste F Las Vegas Nevada, 89121. PGP is currently seeking podcast productions and video productions to be produced on location.
Michael Wheels Parise has been a comedian for over 25 years, most of those years, touring with the most controversial comedian of our time, Andrew Dice Clay. Starting in the comedy trenches in New York to becoming a International favorite as well at the # 1 comedy club in The world, the Comedy Store in Los Angeles CA. Wheels had one thing on his mind "Making it". Now is his time. "I DO TINGS"! Can be heard every Monday and Thursday on iTunes, Stitcher Radio and Michael Wheels Parise's Official Website.