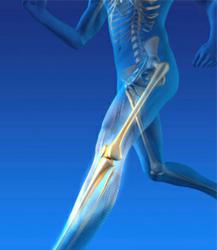 Biomet currently holds over 95% market share in the multi-million-dollar All-Suture product market
Vancouver BC (PRWEB) March 13, 2013
According to iData Research, the leading global authority in the healthcare device market, there are currently two major developments in the U.S. orthopedic device market that are making drastic impacts, both in the soft tissue and orthopedic biomaterials markets. The first is the rise of All-Suture products used for rotator cuff repair and shoulder labrum repair also known as instability repair. Due to technological innovations by the market leader Biomet, patients with shoulder labrum tears or rotator cuff damage from sports or age-related injuries can now expect better quality restoration, and potentially quicker recovery time. Furthermore, Bone Marrow Concentrate (BMC) and Platelet Rich Plasma (PRP) used in Bone Void Fillers (BVF) and sports medicine are now widely accepted as effective and are commonly used by doctors in various orthopedic repairs. Products in these cutting edge treatments are proving to be game changers in their respective markets, earning first-to-market companies millions in revenues.
Advanced Treatment in the Soft Tissue Market
With newly improved All-Suture products, the hole drilled in the labrum, the ring of cartilage about the edge of a joint surface of a bone, and rotator cuff is almost half the size it once was. This means surgeons have increased accuracy and if the procedure does not work the first time, there is more surface area available for the surgeon to drill the second time around.
Although Biomet introduced their leading All-Suture product in 2010 with the Jugger Knot ™, unit sales are now gaining tremendous momentum as surgeons experience a high success rate. "Being first to market, Biomet currently holds over 95% market share in the multi-million-dollar All-Suture product market", says iData Research, "Units sold are nearly doubling each year and aren't expected to taper off completely until 2016." The Labrum market alone is estimated at nearly $20 million with over 60,000 units sold. Foundational to Biomet's success is strong marketing, efficient distribution lines, relationships with physicians and an overall good reputation. With the ascendency of these products, more competitors will get on board, creating increased surgeon awareness, technology improvements and marketing efforts. Stryker also leads in this arena with its product, ICONIX ™. Stryker continually excels in product development focusing primarily on large joint reconstruction such as hips and knees.
Advanced Treatment in the Orthopedic Biomaterials Market
With a growing elderly population in the U.S., hospitals are seeing demand for orthopedic treatments escalate. One segment in particular is exploding on the market: Bone Marrow Concentrate (BMC) & Platelet Rich Plasma (PRP), used in bone void fillers and sports medicine. Doctors commonly use bone void fillers to repair cracked bones, spine injuries and in joint reconstruction. The BMC process involves extracting bone marrow usually from the hip, and spinning it in a centrifuge which concentrates it as a liquid that can then be used in a variety of orthopedic treatments.
Biomet, Terumo-Harvest and Arteriocyte are current leaders in the BMC and PRP market, which when combined has a value of over $120 million. BMC has a slightly smaller market size than PRP, and has four times the ASP of PRP.
iData's comprehensive report series for Orthopedic Markets include the latest data, market analyses and competitor profiles for over 65 market segments in the U.S., India, China, Brazil, Asia Pacific (Australia, Japan & South Korea), and 15 European countries. These include Orthopedic Large Joints, Small Joints, Trauma, Biomaterials, Bracing, Soft Tissue, and Spine.
Get a free report synopsis or table of contents from this series here.
About iData Research
iData Research Inc. is an international market research and consulting group focused on providing market intelligence for manufacturers including fortune 500 companies as well as smaller startup companies needing to better navigate the medical device market. iData covers research in: cosmetic surgery, diabetes, cardiology, and more.