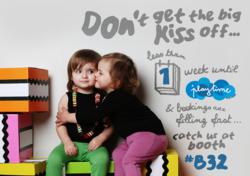 Auckland, New Zealand (PRWEB) March 12, 2013
Little monsters and monsterettes now have a new source for comfortable, fashionable and cool clothing. Little Flock of Horrors (LFOH), now offered in the United States at high-end retailers, made their debut at the Summer, 2012, exhibition of new clothing and accessories at the Playtime New York tradeshow.
Playtime New York is one of the country's premier children's clothing and accessory line tradeshows, where American and international designers alike come together to share the newest developments in clothing, accessories, jewelry, shoes and decorative items. Hosted in trendy SoHo, the event attracts the finest in designers – those who want to attract buyers from premier outlets of children's fashion throughout the world.
Lucy Wildman, one of the founders of Little Flock of Horrors attended the Playtime New York show with several of her staff. She said, "Having the opportunity to promote our unique brand of aesthetically-appealing merino wool clothing at a venue like Playtime New York is a dream. Knowing that all of this started with my desire to provide my son with warm, comfortable, fashion-forward clothing is simply incredible. Every designer should be so lucky."
In addition to Wildman, the other co-founder of LFOH, Francis Frost, attended the event. Said Frost, "I can't tell you how honored we are to have attended the Playtime tradeshow. We appreciate the opportunity to present our designs and ideas for appealing and comfortable children's clothing to the American and international market. Attending Playtime New York has given Little Flock of Horrors visibility that we simply could not have achieved anywhere else."
With an innovative, irreverent approach to creating children's fashion, LFOH's candy colored line provides kids with clothes that have a couture-feel, are comfortable and practical. Since the Playtime New York exhibition, Little Flock of Horrors children's clothing line is now available for fashion forward families in the United States. Currently carried by a variety of American stores each and every piece of LFOH clothing is designed to give kids the benefit of the best possible fabiric one can put nest to your skin, style and comfort.
For more information on the Little Flock of Horrors brand or to schedule an interview with Lucy Wildman or Francis Frost, visit the website at lfoh.net, email playtimenewyork(at)lfoh(dot)net or call (401-339-7568). Module Marketing for other info.
# # #