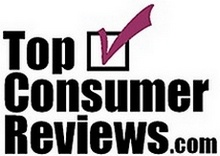 The research and analysis conducted by the TopConsumerReviews.com team provide a valuable service for today's busy consumers.
McLean, Virginia (PRWEB) March 12, 2013
FrontPoint Security, the leading nationwide wireless home security company, was recently awarded the #1 ranking on TopConsumerReviews.com's list of the nation's best home security systems. FrontPoint's ability to deliver reliable, state-of-the-art home security technology for an affordable price earned them this important industry accolade.
"At TCR we take our ranking decisions very seriously, and conducted careful analysis prior to selecting our #1 security provider", said Brian Dolezal, President of TopConsumerReviews.com. "FrontPoint was a stand-out, due to their excellence in many important areas of home security: technology, reliability, flexibility and affordability. While all of our top security companies have some outstanding characteristics, we determined that FrontPoint's remarkable range of features, paired with exceptional customer service clearly justifies their position at the top."
FrontPoint's simplicity and customer-friendly interactive features also figured prominently in TopConsumerReviews.com's determination of their first-place ranking. The industry analysts at TopConsumerReviews.com were impressed by how quickly and easily a homeowner can set up FrontPoint's wireless home security system, with the ability to expand or move the system any time. They also cited FrontPoint's free mobile apps, instant status alerts and countless customization options as valuable, industry-leading features.
"TopConsumerReviews.com's commitment to impartially identifying the best offer in each product category enhances the value of our #1 ranking, and we are truly honored to earn this top distinction," said FrontPoint Security Co-Founder and Senior Advisor, Peter Rogers. "The research and analysis conducted by the TopConsumerReviews.com team provide a valuable service for today's busy consumers. We're delighted that they recognized a similar value in our security system, focusing on our outstanding record for safety, reliability, simplicity, convenience and customer service."
TopConsumerReviews.com is an independent organization dedicated to bringing consumers unbiased reviews of the best products available. Their popular website provides a valuable time-saving service to consumers, offering in-depth analysis of over 250 different kinds of products, within six major categories: Health and Beauty, Home and Family, Money and Business, Relationships, Shopping and Gifts, and Travel and Insurance. As a proud member of the Better Business Bureau, TopConsumerReviews.com supports honesty and fairness throughout the business community.
About FrontPoint Security
FrontPoint Security is the leading nationwide provider of interactive wireless home security systems. FrontPoint combines next generation technology with remarkable simplicity and commitment to service, resulting in a safer and unique customer experience. With customers in all fifty states and Canada, FrontPoint Security is one of the fastest growing alarm companies in North America. FrontPoint is a GE Security Authorized Dealer and Alarm.com's Preferred Dealer for no-hassle security solutions. For more information, please visit http://www.FrontPointSecurity.com or call 866.296.3945.
About TopConsumerReviews.com
TopConsumerReviews.com, LLC is a leading provider of independent reviews and rankings for thousands of consumer products and services. They offer the latest on Home Security including information, education, and ratings for the best home security systems available today.
Media contact: Cassandra Dobkins, media(at)fpssi(dot)com.