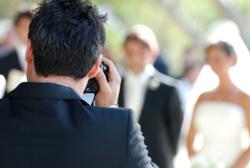 Newport Beach, CA (PRWEB) March 12, 2013
In spite of nationwide economic downturn, weddings have continually cost well above $25,000 on average, says Wedding.com. In a recent survey conducted by TheKnot.com, it has been revealed that the average cost of weddings has reached its highest point since 2008.
According to the annual survey, wedding costs have increased in almost all categories including wedding photography, music, and floral décor. As it stands, the average total of wedding expenses equates to $28,427 per wedding (http://money.cnn.com/2013/03/10/pf/wedding-cost/). According to Wedding.com, increases in wedding costs are not surprising. Couples are not only sending invitations to their guests, many also front the cost of rehearsal dinners and next-day brunches or give custom favors. Many also follow recent trends of wedding extras by having photobooths or candy buffets, all of which drive up the cost of a wedding.
"It was only a matter of time before the average wedding cost started growing again," says Brett Reynolds, CEO of Wedding.com. "A wedding is meant to be a once in a lifetime event, and many couples do everything they can not to let financial slowdowns hinder their plans."
For more information about Wedding.com, please visit http://www.wedding.com.
About Wedding.com
Wedding.com is an innovative new website that connects engaged couples planning their wedding with wedding vendors looking to grow their business. Wedding.com contacts vendors for couples, giving them the power to compare and negotiate while ultimately saving time and money. With 12,000 couples and 22,000 vendors currently using the website, 105,000 proposals have already been sent since their inception. Vendors range in services from wedding planners, photographers, florists, and DJs to custom invitations, party favors, and much more. For additional information about the company and its services, please visit http://www.wedding.com.