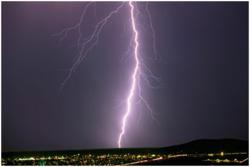 Lincoln, RI (PRWEB) March 11, 2013
Early spring is well-known for its mixed bag of weather conditions.
That's why Amica Insurance has compiled some tips to help you stay safe during nature's most hazardous weather patterns. Keep updated on how to survive all of the extreme weather below, so you and your family can be ready to take action should the need arise.
Lightning fact: Lightning can heat the surrounding air to around 50,000 degrees Fahrenheit, which is five times hotter than the sun.
Safety tip: Head indoors if you can't count to 30 in between seeing lightning and hearing thunder. Then, wait 30 minutes after the storm has passed before leaving your shelter.
Snowstorm fact: The snowiest city in the U.S. is Syracuse, NY, which averages 128 inches of snow each year.
Safety tip: If you or your family exhibit the warning signs of hypothermia, such as uncontrollable shivering, disorientation, slurred speech and exhaustion, seek immediate medical attention.
Tornado fact: On average, 1,200 tornados strike the U.S. each year. While they can last from several seconds to more than an hour, most last less than 10 minutes.
Safety tip: If you're trapped in a car and see a tornado, drive out of its path by moving at right angles.
Wildfire fact: More than 100,000 wildfires occur in the U.S. each year, which can destroy up to four or five million acres of land.
Safety tip: Keep lawn sprinklers near any above-ground fuel tanks and leave them on during a wildfire to douse the structure.
Extreme heat fact: The worst heat wave occurred in 1980, when more than 1,250 people died as extreme heat swept through the central and southern U.S. from June through August.
Safety tip: Avoid hot foods and heavy meals when it's hot outside because they only add heat to your body.
Hurricane fact: Hurricanes can pack wind speeds of more than 160 mph and unleash more than 2.4 trillion gallons of rain a day.
Safety tip: Use plywood to reinforce windows. Tape might keep more of the glass together when impacted, but it will not keep it in place.
Prior to any major storm, be sure that your family has practiced an emergency evacuation plan. It's also important to have emergency kits in your home and cars. After any severe weather has passed, stay indoors until emergency personnel announces that the danger has subsided.
About Amica Insurance
Amica Mutual Insurance Co., the nation's oldest mutual insurer of automobiles, was founded in 1907. The company, based in Lincoln, RI, is a national writer of automobile, homeowners, marine and personal umbrella liability insurance. Life coverage is available through Amica Life Insurance Company, a wholly owned subsidiary. Amica employs more than 3,200 people in 40 offices across the country.
Contact: Vince Burks, Corporate Communications, 50 Amica Way, Lincoln, RI 02865-1155, 800-652-6422, ext. 24563
Twitter: Amica
Facebook: Amica Mutual Insurance Co.