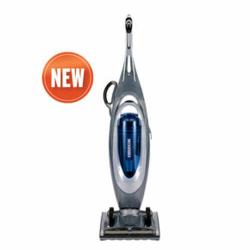 Our Touch bagless vacuum and AirInstinct 75 represent the innovative and easy-to-use premium products that our consumers want and build on the enduring "Love My Oreck" experience. We're honored to be recognized by the VDTA.
Doug Cahill
CEO, Oreck
Nashville, Tenn (PRWEB) March 13, 2013
The Oreck Touch™, Oreck Corporation's first bagless vacuum with onboard tools, has been named 2013 best new floor care product by the Vacuum Dealers Trade Association (VDTA). Oreck's smart air HEPA air purifier, AirInstinct® 75, was chosen best in class.
The Oreck Touch™ is a full-powered, high performance upright bagless vacuum cleaner that brings easy to bagless. It is designed with a four-stage multi-cyclonic filtration system that ensures no loss of suction¹ and five intuitive features or touchpoints:
1. The onboard quick-wand is fully-powered and ready for spot cleaning without having to pause or bring the vacuum to an upright position. Accessories include crevice tool, turbo brush and upholstery/stair tool.
2. A self-adjusting head is designed for multi-surfaces, letting users go from hard floors to carpet without stopping—or stooping—for manual adjustments.
3. The switch for the on/off brushroll is right at users' fingertips on the handle.
4. Its lever-action canister frees users from having to manually close the canister, enabling them to control the dust cloud while keeping their hands clean.
5. Swivel steering helps users get around and under furniture with ease.
The Oreck® AirInstinct® 75 has six features that set it apart:
1. It's powerful and efficient. One of the most powerful HEPA air purifiers Oreck has ever offered, it's ENERGY STAR® qualified and perfect for rooms up to 250 sq. ft.2
2. It's smart. It monitors the dust, pollen and smoke in the air passing through the sensor with its APS™ (Automatic Particulate Sensor) technology. Based on what the APS detects, it turns the air purifier from low to medium to high (automatically, so users don't wonder what setting to use), which pulls more air in through its fan. The three-color lighting system lets users know that it's working, pushing cleaner air back into the room.
3. It cleans. Its three-stage PATH system reduces odors and captures 99.97% of particles (as small as .3 microns) from the air that passes through its filters.
4. It's ultra-quiet on low setting or can provide white noise, depending on the setting.
5. It gives users control with a timer that lets them set it to run for 1, 4 or 8 hours.
6. It's built to last. Oreck backs the AirInstinct 75 with a 3-year limited warranty.
The VDTA show is the only tradeshow event in the United States that is singularly focused on the vacuum industry.  Manufacturers present their current vacuum product line and their new products to existing vacuum dealers as well as to potential clients.
For more information about Oreck products visit http://www.oreck.com.
¹Per IEC 60312-1, Clause 5.9, with accepted variability tolerance of 5%.
2 Based on 8 foot ceiling, high setting and ANSI/AHAM AC-1.
About Oreck
Headquartered in Nashville, Tenn., Oreck Corporation is a leading manufacturer in the homecare industry, offering a variety of vacuum cleaners (Both bagged and bagless vacuum cleaners), air purification and other cleaning products. Oreck sells its products in hundreds of Oreck Clean Home Centers, direct to consumers and through other leading retailers. The company distributes products in the U.S., Canada and parts of Europe. For more information, please visit http://www.oreck.com.