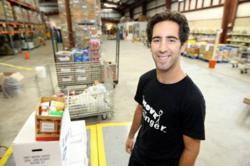 T-shirts help get the word out, to get more public support.
Washington DC (PRWEB) March 13, 2013
Move For Hunger is a non-profit organization that teams with moving companies to help the efforts of our nation's food banks. In the hectic shuffle of relocating from one home to the next, people often end up throwing away food that could be sent to a struggling family. Partners of Move For Hunger pick up non-perishable food items during the moving process and deliver straight to local food banks, allowing for hungry Americans around the country to have their next meal.
It started in 2009, when founder Adam Lowy, then working for his father's relocation company, realized how much food was being tossed away in the course of moving. It didn't take much research to learn that one out of every six people in the United States struggle to find their next meal every day. Adam started Move For Hunger, and in one month, collected 300 pounds of food, gaining momentum with 200,000 pounds by 2011. Currently, the organization has about 400 movers in 44 states, with over 1.2 million pounds of food taken to foods banks around the country so far.
Move For Hunger has teamed with Rush Order Tees several times throughout the years. "T-shirts help get the word out, to get more public support," says Lowy. As a hardworking group that garners no other funds beyond donations, selling t-shirts is a small, affordable step that the organization can use to market their selfless cause.
Coming up, Move For Hunger is teaming up with the Capital Bocce league in Washington DC's National Mall. On April 20th, the non-profit organization is bringing together over 400 people to raise money and awareness of US hunger relief all while playing bocce ball. They are still signing up teams at capbocce.com.
About Move For Hunger
Move For Hunger was established to strengthen the efforts of our communities' food banks, while actively engaging in America's hunger fight.
Many people throw out a good deal of "stuff" when they move. Unfortunately, a lot of this "stuff" is food that could be delivered to a family in need rather than thrown away. That's where Move for Hunger come in. Their movers offer to pick up unwanted, non-perishable food items during the moving process and deliver it to their local food banks.
By using unique knowledge and experience, Move For Hunger leverages its existing national network of transportation companies to create one of the nation's largest, year-round service programs.
Learn more about Move for Hunger at http://MoveForHunger.org/
About Rush Order Tees
Rush Order Tees, a Printfly Company, was founded in 2001 and has since grown to be one of the nation's leading screen printers and embroiderers providing customized t-shirts to businesses, schools and consumers in the US and Canada.
The company's repeat client list includes globally recognized brands and leaders in their spaces: Amazon, Google and Microsoft as well as charitable organizations and government agencies including Susan G. Komen and the National Institute of Health.
Learn more about Rush Order Tees' customer causes at http://RushOrderTees.com/reviews