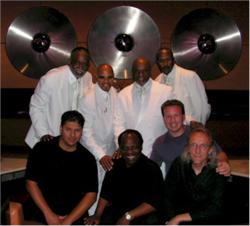 Awesome act under $15K
(PRWEB) March 21, 2013
Event entertainment agency specialist Mark Sonder Productions, Inc. announces that 2013 is the 60th Anniversary of the music of The Drifters. The recognized leader celebrating this music is Linwood Peel's Tribute to the Drifters. Some of the Diamond Anniversary tunes are: "Stand By Me," "Under The Boardwalk," and of course, "On Broadway."
In an internet age of Spotify, Pandora, Sirus, etc. sending music 24/7, you may not remember the original Drifters. There is no doubt that you do remember their tunes. Rolling Stone Magazine ranks The Drifters number 81 on their 100 greatest artists of all time. The Drifters have been inducted into both The Rock and Roll and the Vocal Group Halls of Fame and over the years have been fronted by memorable singers such as Clyde McPhatter, Ben E. King and Bill Pinkney. The Tribute to The Drifters lineup is led by legendary longtime lead vocalist Linwood Peel.
Linwood enjoys touching the soul of the people--turning words into substance. That is what audiences can expect in this fabulous show celebrating this Diamond Anniversary.
Although not scheduled to perform, when asked by Producer Mark Sonder, author of "Event Entertainment and Production," to step in with less than 10 minutes to go to perform the National Anthem in front of an indoor stadium full of people at the New England Basketball Hall of Fame Induction Ceremony, Sonder asked Peel, "Can you be ready?" and Peel replied, "No problem, I was born to sing!"
To get your party started and to celebrate The Drifters 60th Diamond Anniversary, call upon Linwood Peel's Tribute to the Drifters at +1-540-636-1640.
The Reviews Are In:
-"Thank you, thank you, thank you, for helping us raise the needed money. --Matthew Wallace, Greater McLean (Virginia) Chamber of Commerce
-"Looking forward to having them back with us in the future. A great group to work with!" --Debra Hoskins, Norton Center for the Arts
-"Awesome act under $15K" --American Entertainment Magazine (2 years in a row!)
Event entertainment specialist Mark Sonder Productions, Inc. is an award winning entertainment agency that delivers complete entertainment program packages to corporations, associations, facilities, casinos, concerts and special events worldwide.
Websites:
http://www.marksonderproductions.com/lpsdrifters
http://www.drifterstribute.com
http://www.facebook.com/lpsdrifters