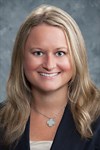 She is an important and valuable addition to our team.
New York City, NY (PRWEB) March 11, 2013
Heather Wyckoff, the former general counsel and chief operating officer of a New York investment adviser, has joined the Haynes and Boone, LLP Investment Funds and Private Equity Practice as part of a talent build-out focused on service to an array of private funds.
"Heather brings with her a wealth of knowledge, not only in the formation and structure of private funds generally, but specifically regarding managed futures managers and the compliance obligations of commodity pool operators and commodity trading advisors under the Commodity Futures Trading Commission (CFTC) and National Futures Association (NFA)," said Partner Craig Unterberg, head of the New York-based Prime Brokerage and Equity Lending Practice Group. "She is an important and valuable addition to our team."
In her past position with Artivest Holdings, Inc., a venture-backed sponsor of platforms of private funds, ETFs, and exchange-traded commodity pools managed by emerging hedge fund managers, Wyckoff was responsible for overseeing all legal matters for the firm and managing its day-to-day operations, including all fund-related matters as well as general corporate, employment and intellectual property matters.
Before that, Wyckoff developed her legal skills forming, structuring and providing advice to domestic and offshore hedge funds and funds-of-funds that pursued a wide variety of investment strategies, and private equity funds, including film finance funds and maritime funds. She also negotiated seed investments, side letters and solicitation agreements.
At Haynes and Boone, Wyckoff advises clients with respect to CFTC and NFA rules and regulations and other CPO/CTA operational matters, including with respect to preparing and filing NFA disclosure documents, compliance policies and procedures, and issues relating to financial reporting, exam proficiency requirements, marketing and periodic audits. She counsels investment advisers with respect to registration/Form ADV, investment advisory contracts, compliance manuals and other policies and procedures, and issues relating to advertising, websites, and marketing materials.
She also represents fund investors in the structuring of seed capital arrangements, negotiation of side letters, due diligence and other matters relating to their investments in private funds or managed account programs.
About Haynes and Boone
Haynes and Boone, LLP is an international corporate law firm with offices in Texas, New York, California, Washington, D.C., Rio de Janeiro* and Mexico City, providing a full spectrum of legal services. With more than 525 attorneys, Haynes and Boone is ranked among the largest law firms in the nation by The National Law Journal and has been named a "Top Corporate Law Firm in America" (Corporate Board Member Magazine, 2001-2012).

Working under a cooperation agreement with MMA Lawyers in Rio de Janeiro. Available by appointment with MMA Lawyers. Haynes and Boone, LLP and MMA Lawyers operate as independent firms.