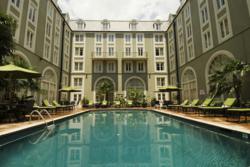 New Orleans, Louisiana (PRWEB) March 18, 2013
The New Orleans Hotel Collection has announced that four of its upscale hotels have joined Stash Hotel Rewards® program. The four hotels are: the 217-room Bourbon Orleans Hotel, conveniently located on Bourbon Street near Jackson Square; the 102-room Hotel Mazarin, located on Bienville Street which recently completed a massive restoration and upgrades; the 64-room Hotel Le Marais, a stylishly chic and contemporary boutique property on Conti Street; and the 111-room Dauphine Orleans Hotel, a long-time local favorite known for its excellent service.
All four hotels are located in New Orleans' most desirable district – the historic French Quarter. Each of these unique properties appeals to the world traveler seeking unique stays at independent hotels in remarkable destinations. Stash members can now earn and redeem points for free nights at these splendidly original hotels of the New Orleans Hotel Collection.
"We are excited to be partnering with the Stash Hotels network, which will improve access to our unique properties for the discerning members of the Stash Rewards program who make a conscious choice to stay at independent boutique properties around the world," said Craig Hulford, area general manager. "Stash Hotel Rewards provides guests of our hotels points to earn free says, and a sophisticated online search and reservations system to access a worldwide network of over 200 independent hotels, each with their own voice and personality."
Character, tradition, storytelling, gracious hospitality, and an eye for indulgence — they're all facets of New Orleans that are woven into everyday life. So, it's only right that they should also be part of the visitor's experience. These concepts define the upscale properties that make up the New Orleans Hotel Collection. Locally owned and managed, the accommodations represent the city's finest qualities.
Guests of the Bourbon Orleans, Hotel Mazarin, Hotel Le Marais and Dauphine Orleans Hotel can join Stash for free at http://www.neworleanshotelcollection.com/stashrewards. Stash members earn five points for each dollar spent on eligible room rates and can redeem them at great independent hotels across the U.S. Stash points never expire, and redemption is simple, without blackout dates or category restrictions found in many chain programs. Stash partner hotels also provide members with exclusive travel deals.
For a limited time, Stash members are offered an exceptional benefit: Double Points. For bookings made from now through the 30th of April, for stays from June 1 to September 30th of 2013, Stash Reward member will earn double points for all stays on Sunday through Thursday nights.
About Stash Hotel Rewards:
Stash Hotel Rewards frees travelers from the uninspired offerings of existing hotel reward programs by making it easy to break free from big, bland hotel chains and stay at amazing hotels. Stash was founded on a belief in the happiness-producing power of traveling to places that convey a unique and interesting story – places with soul. It's a belief that is shared with the independent hoteliers and the independently-minded travelers the company was created to serve. Launched in May 2010, Stash was founded by a team of travel and e-commerce veterans from Expedia, Amazon, Microsoft, and Zillow. Stash is headquartered in Palo Alto with offices in Seattle and Miami. Travelers can easily sign up for a free account at http://www.neworleanshotelcollection.com/stashrewards.
About the New Orleans Hotel Collection
The New Orleans Hotel Collection is a group of seven splendidly original hotels in the New Orleans metropolitan region owned by local investors. Comprised of the Bourbon Orleans, Dauphine Orleans, Hotel Mazarin, Wyndham Riverfront, Audubon Cottages, Crowne Plaza New Orleans Airport and Hotel Le Marais, these are boutique and small upscale meeting hotels in prime locations throughout the city. For more information, visit the website: http://www.neworleanshotelcollection.com.