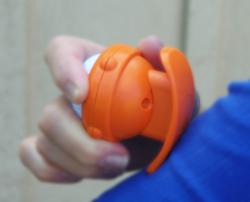 Phoenix, Arizona (PRWEB) March 13, 2013
Zing Partners LLC reminds designers that the entry submission deadline is March 15, 2013. Core77 Magazine has hosted the awards since 2011 and currently judges 17 progressive categories honoring the richness of the design profession and its practitioners. Core77 is an online magazine dedicated to the practice and produce of the field of industrial design launched in March 1995. Updated on a monthly basis, Core77 is possibly the oldest online magazine in existence today. The site began as two students' graduate school project at Brooklyn, New York's Pratt Institute and it continues to serve as a practical resource for students, practitioners and fans of the field.
From Consumer Products to DIY, Service Design to Writing and Commentary, the Core77 Design Awards provide designers, researchers and writers a unique opportunity to communicate the intent, rigor and passion behind their efforts and offer 15 designated student sections within the 17 categories. With globally distributed jury teams, individuals who will be considering the work are expert practitioners in their fields. Info at: http://www.core77designawards.com.
Core77 Design Awards are open to professionals, students and DIYers from around the world. While almost all categories have professional and student entry fields, the DIY category has no professional or student distinction and no trophy is awarded. As a self-initiated and self-funded project, Zippy Rolling Ball Therapy Device is entered in the DIY category for the 2013 competition. Check out a copy of our video submission on our YouTube channel Zippy RBT: http://youtu.be/ajJWhzr1c5M.
Zing Partners LLC, based in Phoenix, AZ , designed, manufactures, and distributes Zippy Rolling Ball Therapy devices for Therapy, Sport, and Life. Golf balls have long been recognized by therapists for their perfect shape and size for massage and Zing Partners created the Zippy RBT to address the question of how you hold on to a golf ball during massage. Zippy RBT devices come in three models: the Basic, the Rocker Handle, and the T-Handle. The "patent applied for" devices permanently house a USGA specification golf ball within a durable precision molded shell for smooth, easy rolling performance. Durable, easy to use Zippy devices are the choice of athletes, personal users, and professional therapists to treat sore muscles and joints, sooth pressure point release spots, "untie" knots, and bring added circulation and lymph drainage with a simple device that rolls smoothly and freely on dry skin and many fabrics. Zippy RBT devices can be carried in pocket, purse, and sports bag for go anywhere, ready anytime, massage.
Zippy Rolling Ball Therapy massage devices are available online at http://www.zippymassage.com and on Amazon. View the submission video on the Zippy RBT YouTube Channel: http://youtu.be/ajJWhzr1c5M. Visit Zippy RBT – Rolling Ball Therapy on Facebook and "Like" our page. Follow us @ZippyRBT on Twitter, https://twitter.com/ZippyRBT and on LinkedIn Zippy RBT Zing Partners LLC, http://www.linkedin.com/pub/zippy-rbt-zing-partners-llc/66/444/b30.