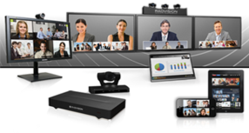 Vaughan, ON (PRWEB) March 12, 2013
As an Avaya Connect Gold Partner, BroadConnect Telecom proudly announces that they have received full certification to distribute, implement, and support the revolutionary Avaya Radvision Scopia to their nationwide customer base.
The video solutions presented with the Avaya Radvision suite not only simplify the real-time collaboration process, they also present BroadConnect consumers with the very best in business to business AND business to consumer video experiences by offering fully enhanced and interoperable video conferencing solutions. Simply by offering Radvision Scopia in their service portfolio, BroadConnect has extended the reach of their already impressive Unified Communications platform in terms of capabilities and core competencies. BroadConnect Telecom is the only provider that provides a fast secure connection through their hosted platform which ensures the highest quality calls. Their Video Conferencing solution is also affordable for small business through the use of their managed platform.
Rob Daleman, Director of Marketing for Avaya praised BroadConnect Telecom for assisting Avaya in achieving their forecasted goals of driving consistent, high quality communications experiences for their consumers. In fact, he can be quoted as saying that by adding Radvision to their portfolio, BroadConnect can "help businesses develop their existing video collaboration capabilities in new and exciting ways. With their Hosted Video Solution, they're bringing an economical alternative that allows businesses the opportunity to use Video Conferencing without having to purchase costly premise based hardware".
Since BroadConnect Telecom is a Gold partner in the Avaya Connect Channel Partner program they receive top level technical and training support, thereby enabling BroadConnect to support real-time video collaboration with the highest degree of ease.
About BroadConnect Telecom
At BroadConnect, we operate our own North America wide private voice and data network. This allows us to control the first and last mile of service, meaning crystal clear voice calls that are securely delivered and are always prioritized over data communications. Our goal is to exceed established performance standards while offering our customers innovative communication solutions coupled with the highest personal service. Please visit http://www.broadconnect.ca/ and http://www.broadconnectusa.com/ for more information.