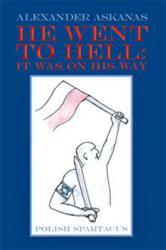 New York, NY (PRWEB) March 25, 2013
He Went to Hell: It was on His Way by Alexander Askanas is an eye-opening insider's look at the often under-reported Warsaw Ghetto events and particularly the Warsaw Uprising occurring more than one year later.
The novel tells the story of David, a fighter in the ghetto who later participated in the Warsaw Uprising, after he escapes and hides on the "Aryan" side with the help of his teacher and high school friends.
As the story unfolds, he travels through different dangerous places and encounters a variety of characters and never-ending hurdles.
Askanas hopes that the book will help readers understand that many Jewish individuals felt Polish patriotism as well as learn that the relationships between Polish and Jewish individuals were complicated since there were various saviors and traitors.
He Went to Hell: It was on His Way
By Alexander Askanas
Softcover: 978-1-47713-710-9, $19.99
Hardcover: 978-1-47713-711-6, $29.99
E-Book: 978-1-47713-712-3, $3.99
Available at barnesandnoble.com, amazon.com and xlibris.com.
About the author:
Alexander Askanas is an author, educator and physician. A practicing Manhattan Cardiologist, he has authored two historical fiction novels. The first book was Black Swastika, Red Swastika, published in 2009 and was based on his early childhood time spent in a Warsaw Ghetto. His latest novel is He Went to Hell: It was on His Way.
###