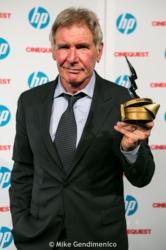 SAN JOSE, CA (PRWEB) March 13, 2013
As the worldwide, preeminent discovery ground for both cinema and media innovation, Cinequest Film Festival 23 (CQFF23) unleashed record-breaking premieres and audiences, leading edge technological innovations, and a spectacular class of Maverick Spirit Award recipients. Over one hundred thousand participants enjoyed 86 World and U.S. Premieres from 48 countries in world class venues. The organization that led the revolutions of digital film making, internet distribution, and digital exhibition proudly became an all-digital experience sporting Sony 4K and Barco projection systems and an all digital international lineup. Artist & Innovator forums integrated the amazing worlds of creativity and technologies focusing on the opportunities of 4K film making and film viewing as well as the role of social media in financing and marketing films.
Legends Harrison Ford (Star Wars, Indiana Jones), Chuck Palahniuk (Fight Club), Phil Molyneux (President & COO, Sony Electronics), Chris Cookson (President, Sony Pictures Technologies) and Salman Rushdie (Midnight's Children) received Maverick Spirit Awards— inspiring Cinequest artists and audiences with illuminating conversation and insight. Previous recipients include: J.J. Abrams, Kevin Spacey, William H. Macy, Deepak Chopra, Gus Van Sant, Spike Lee, Jennifer Jason Leigh, Jackie Chan, Sir Ian McKellen, Edward James Olmos, Robert Wise, Alec Baldwin, and Sir Ben Kingsley.
CQFF23 opened with Sally Potter's (Orlando) latest, Ginger & Rosa, starring Elle Fanning and Christina Hendricks and closed with Deepa Mehta (Fire, Earth, and Water) helmed Midnight's Children. Additional film highlights included: Jessalyn Gilsig in Somewhere Slow; Mads Mikkelsen in The Hunt, Jamie Chung in Eden, and Tommie Lee Jones in Emperor.
Knight Foundation Audience Award Winners, and recipients of a $25,000 cash prize each, were: Wampler's Ascent (Knight Foundation Audience Award, Documentary) and The Sapphires (Knight Foundation Audience Award, Dramatic Feature).
Jury Award Winners included: One Small Hitch (Best Comedy), Stable Life (Best Documentary), and Solace (Best Drama).
"This festival is the bar by which other festivals must try to live up to. I don't know how it could possibly get any better, but I'm excited to see how it will. And after meeting the heads of the departments, and the two co-founders of the festival, I have no doubt that they have something planned and it will be amazing," said John Burgess, Director of One Small Hitch, winner of the Best Comedy.
Cinequest Picture the Possibilities Season Three: April 1, 2013 – March 2, 2014
Cinequest Film Festival 24 Dates: March 3 – 16, 2014
CQFF23 Premium Partners: HP, Sony, AT&T U-verse, The San Francisco Examiner, Applied Materials, Cisco, Barco, and the City of San Jose.
CQFF23 Partners: Adobe, CBS Radio, Comcast, Dolby, eBay Foundation, Harmonic, Kaiser Permanente, Knight Foundation, Liquid Agency, Macy's, Panasonic, Peet's Coffee & Tea, San Francisco Bay Guardian, Synaptics, United Airlines, Valley Transportation Authority, Stella Artois, NBC Bay Area, Yelp, Hilton San Jose, Hyatt Place San Jose, The Fairmont San Jose, YP.com, Williams Party Rentals, Southwest Airlines, POPSUGAR Inc., PayPal, and Tito's Handmade Vodka.
CINEQUEST AT A GLANCE
Cinequest fuses creativity and innovation to empower through Picture The Possibilities global youth and leadership movement, Cinequest Mavericks Studio, and Cinequest Film Festival. Based in the Silicon Valley, Cinequest Film Festival is one of the seven biggest film festivals in the world and the leader in technologies and innovation.
# # #